We all know Valentine's Day is in February, but did you also know that February is National Cherry Month? A delicious combination, right? What could be sweeter than a delectable dish made with luscious, ripe, mouth-watering cherries? We tried, and we can't think of anything better, so we decided to share some of the most delicious recipes we could find.
Start the morning off right with some cherry-topped waffles and finish the evening with a to-die-for dark chocolate tart topped with cherries and almond whipped cream. Whether it's Valentines Day or just a regular weekday or weekend, you'll turn it into a special occasion with any one of these amazing dishes as you share the love and celebrate National Cherry Month.
From our friends at Sunset Magazine comes the first out-of-this-world cherry recipe. What goes better with cherries than chocolate? You're right, that's a trick question, because the answer is nothing! Eyes will pop open and feet will be running to the breakfast table for this yummy breakfast.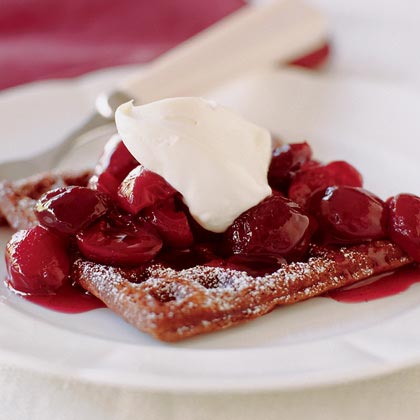 Chocolate Waffles with Poached Cherries
Ingredients:
2 pounds fresh cherries, rinsed and pitted
3/4 cup plus 2 tablespoons granulated sugar
1/3 cup orange juice
2 tablespoons lemon juice
1 vanilla bean, split lengthwise
8 ounces mascarpone cheese
1/2 cup whipping cream
1 teaspoon vanilla
1 cup all-purpose flour
1/4 cup unsweetened cocoa
2 teaspoons baking powder
1/4 teaspoon salt
1 large egg
1 cup milk
3 tablespoons melted butter
Cooking oil spray
Powdered sugar
Directions:
In a 3- to 4-quart pan over medium heat, stir cherries, 1/2 cup granulated sugar, orange juice, lemon juice, and vanilla bean until cherries are juicy and sugar is dissolved, 3 minutes. Adjust heat to maintain a simmer; stir occasionally until cherries are soft, about 10 minutes. Remove from heat; if making up to 2 days ahead, cover and chill (reheat before serving).
Meanwhile, in a bowl with a mixer on low speed, beat mascarpone, cream, vanilla, and 2 tablespoons granulated sugar until soft peaks form. Cover and chill up to 2 days (if needed, whisk to thicken before serving).
In another bowl, mix 1/4 cup granulated sugar and the flour, cocoa, baking powder, and salt. In a bowl, beat egg to blend with milk and butter. Stir into flour mixture until evenly moistened.
Turn a waffle iron to high heat; spray both sides lightly with cooking oil spray. When hot, add about 1 1/4 cups batter; close iron and cook until waffle is well browned, about 9 minutes. Remove waffle; keep warm on a baking sheet in a 200° oven up to 15 minutes. Repeat to cook remaining waffles.
Place a waffle on each of 6 dessert plates; sprinkle with powdered sugar. Top with cherries and juice (discard vanilla bean), then mascarpone cream.
Next up, an amazing appetizer you'll want to bring to every party for the rest of the year! Thank you, Gastronom blog!
Tangy Balsamic Cherry Crostini
Ingredients:
olive oil
salt and pepper
1 tsp lemon juice
2 Tbsp brown sugar
1 Tbsp balsamic vinegar
2 cup cherries, pitted and sliced
1 baguette
goat cheese
micro chives, finely chopped
Directions:
In a bowl, combine sliced cherries, balsamic, brown sugar, lemon juice and fresh cracked black pepper.
Stir until brown sugar is dissolved and cherries are coated and allow to sit for 1 hour.
Slice the baguette into 1/2 inch thick slices, brush with olive oil, and season with salt and pepper.
Place in a 375° oven for around 5 minutes per side or until toasted.
Spread goat cheese onto slices, top with cherries, and drizzle with some of the cherry balsamic liquid.
Finish by topping crostini with chopped chives.
After you've whet everyone's appetite, serve up this sensational, super simple salad from NYT cooking:
Arugula, Cherry and Goat Cheese Salad
Ingredients:
1 6-ounce bag baby arugula
16 cherries, halved and pitted
Scant 1/4 cup pistachios or almonds, (about 1 ounce), lightly toasted and chopped
1 tablespoon chopped fresh tarragon
1 tablespoon sherry vinegar
1 teaspoon balsamic vinegar
Salt and freshly ground pepper
3 tablespoons extra virgin olive oil
2 ounces goat cheese, crumbled
Directions:
Combine the arugula, cherries, half the nuts and the tarragon in a large bowl.
Whisk together the vinegars, salt and pepper and olive oil. Toss with the salad. Arrange on a platter, sprinkle the goat cheese and remaining pistachios over the top, and serve.
Advance preparation: You can have the salad and the dressing prepared a few hours ahead, but don't toss until just before serving.
If you're staying in with your significant other this year, why not try this marvelous main dish for your at-home Valentine's Day feast from Champagne Tastes. It's a recipe for romance when you make this almond cherry seared salmon you might even swim across the ocean for.
Seared Salmon with Cherry Almond Topping
Ingredients:
1/8 cup almonds, slivered
1 TB butter OR olive oil
2 King salmon fillets (approx. 4oz each)
pinch salt, pepper
1 lemon, zested and juiced
1 cup sweet cherries (such as bing cherries), pitted
1/4 cup amaretto
Directions:
Heat a nonstick pan over medium heat. Add almond slivers, and toast them for 2-3 minutes, until they begin to turn golden and smell fragrant.
Pat salmon dry. Pat dry again. (Wet fish will not sear). Sprinkle both sides with salt and pepper and rub the lemon zest onto the fleshy side of the salmon.
Heat butter in a stainless steel or cast iron pan over medium-high heat, until butter is hot but not browned.
Set salmon, skin side down, in hot pan. Sear, without touching or trying to move salmon, for approximately 4 minutes per 1/2 inch thickness. Salmon will begin to cook from the bottom up- turning from pale pink to a whiter, less translucent hue. Salmon is ready to flip when the fish has cooked approximately 3/4 of the way through.
Use thin metal spatula to flip salmon. If salmon sticks to the pan, allow it to cook another 30 seconds and try again until it's loosened.
Once salmon is flipped, sear it for about 1 minute. Remove salmon from pan and cover it with a paper towel to keep it hot.
Turn heat down to medium. Carefully add amaretto to the pan. Next, add cherries and the reserved lemon juice. Simmer cherries for about 2 minutes. While cherries sear, smash them with the back of a spoon to release juices.
Serve salmon immediately with almonds and cherries.
When it's time for dessert, nothing says "I love you" quite like dark chocolate. For a finish that will leave you breathlessly satisfied, try this sinfully delicious dark chocolate tart recipe from Sunset Magazine.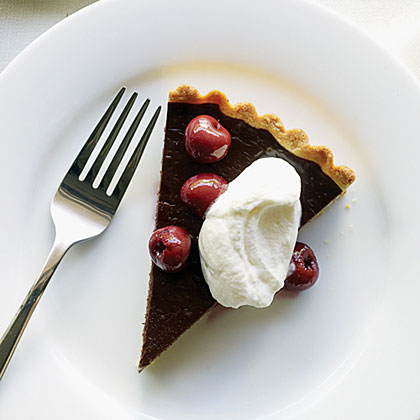 Dark Chocolate Tart, Cherries, and Almond Whipped Cream
Ingredients:
Crust:
1 cup plus 2 tbsp. pastry or all-purpose flour
1/2 cup powdered sugar
1/4 teaspoon salt
7 tablespoons unsalted butter, cut into 1/2-in. cubes
1 piece (1 in.) vanilla bean
1 large egg yolk mixed with 1 1/2 tsp. milk
Filling:
7 ounces top-quality bittersweet chocolate, finely chopped
3/4 cup whipping cream
1/3 cup half-and-half
1 large egg
Topping:
3/4 pound pitted cherries, preferably tart
2 to 5 tbsp. organic granulated sugar
1/2 cup whipping cream
3/4 teaspoon almond extract or 1 1/2 tsp. amaretto
Directions:
Make crust: Pulse flour, powdered sugar, and salt in a food processor to blend. Add butter and pulse a few times until dough looks like cornmeal. Slit vanilla bean and carefully scrape out seeds with a spoon; add to dough. Drizzle in egg mixture and pulse until dough comes together.
Flatten dough into a disc and chill, wrapped in plastic wrap, at least 1 hour and up to 2 days.
Roll dough on a lightly floured surface with a lightly floured rolling pin into a 10 1/2-in. circle. Ease dough into a 9-in. tart pan and, using your thumb, press into sides and bottom corner; fold edges over to help form rim. Line shell with parchment paper and fill completely with dried beans or pie weights. Chill at least 1 hour and up to 1 day.
Preheat oven to 325°. Bake shell 15 to 25 minutes, or until lightly golden on the edge and set on the bottom (lift up parchment to check). Carefully remove parchment and weights and bake shell until pale golden, 5 to 10 minutes more. Transfer tart shell to a rack, and lower oven temperature to 250°.
Make filling: Put chocolate in a medium heatproof bowl. Heat cream and half-and-half in a medium saucepan over medium heat until simmering, then pour over chocolate. Let sit a few minutes, then stir gently until smooth.
Break egg into a separate medium bowl, then pour into chocolate mixture, whisking constantly until incorporated (keep whisk in contact with bottom of bowl so as not to whip in air bubbles). Pour mixture into the tart shell and bake until just set (no longer jiggles), 25 to 35 minutes. Let cool completely.
Make topping: Warm cherries in a saucepan over low heat with granulated sugar to taste until sugar melts. Whip cream with 2 tbsp. sugar and almond extract until soft peaks form.
Cut tart into slices and serve each with a few cherries and a dollop of cream on top.
Make ahead: Up to 2 days, chilled (bring to room temperature before serving).
There you have it, from breakfast through dessert, cherry recipes that will have them beating down your door for more. Celebrate love and cherries this February in honor of National Cherry Month, and have a great Valentine's Day!