The mission of the National Safety Council is to eliminate preventable deaths at work, in homes and within our communities. June is National Safety Month, and because so many children are out on the road in their neighborhoods enjoying perfect weather for bicycling, we'd like to offer some tips on bike safety to help everyone enjoy the sunny days safely.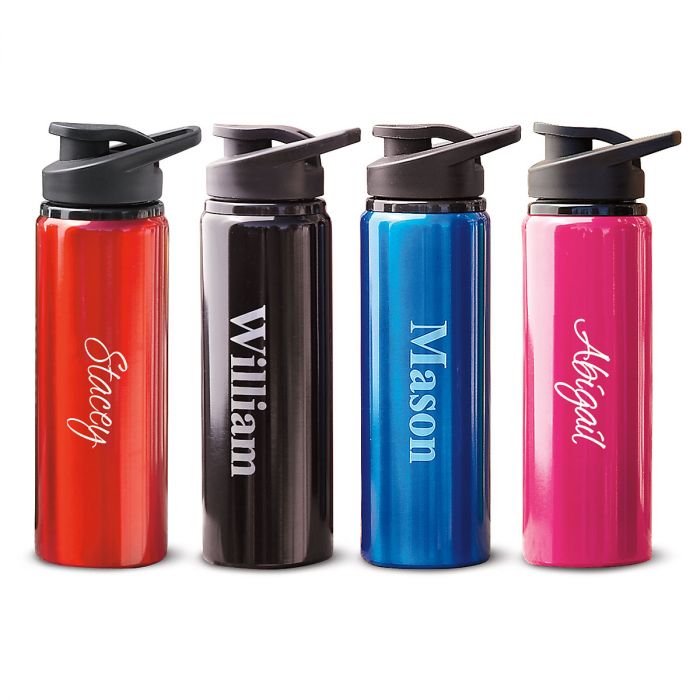 As with any outdoor summertime activity, it's important to stay hydrated. Before setting out on a day of biking fun, be sure to drink some water before you go, and bring along an insulated water bottle. Many bikes are equipped to carry a water bottle on the frame but if yours isn't already set up, a simple clamp can be purchased at a bicycle shop, big box store or online. If you're biking as a family, mom or dad can bring along a small insulated cooler or bag with extra ice and sports drinks in a bike basket or saddlebag.
Early morning or evening are the best times to avoid excessive sun exposure, but sunscreen should be a standard item on bike trips. If your group includes pets, young children, people who take sweat altering medication or the elderly, remember that they are more sensitive to changes in temperature and must take extra precautions in the heat since they are at higher risk of heat-related illnesses such as heat exhaustion and heat stroke. Heat-related illnesses are not to be taken lightly as they can escalate rapidly, leading to delirium, organ damage and even death. Most are easily preventable with proper hydration, avoiding excessive exposure during the hottest time of day (11:00 a.m. to 3:00 p.m.), pacing yourself, and taking advantage of shaded biking paths whenever possible.
According to the National Safety Council website, bicycles were associated with more injuries over all age groups than skateboards, trampolines, swimming pools and playground equipment combined in 2015, and 488,123 people were treated in emergency rooms in 2015 after being injured riding a bicycle. The only sport resulting in more injuries overall was basketball, at 493,011. Football, a high impact sport most of us would assume had the highest injury rate, placed third at 399,873.
To help minimize your risk of injury while riding a bike, a properly fitted safety helmet is crucial. Cyclists who wear a helmet reduce their risk of head injury by an estimated 60% and brain injury by 58%. That statistic makes sense when you consider the first body part to fly forward in a collision is usually the head, and with nothing but skin and bone to protect the brain, the results can be fatal. Helmets must meet federal safety standards and should fit securely. Never buy a used bicycle helmet, as you have no way of knowing whether it was involved in an impact crash and whether the helmet's integrity has been compromised.
Since warmer months usually mean a spike in gasoline prices, it's a smart time to break out the bikes whenever possible, especially if your trip is a short one. Consider using your bicycle for that trip to the grocery store for just a few items, to visit a friend, or caravan with the kids to the local community center, neighborhood pool, or a nearby park for a picnic and some play time away from home. Be sure your kiddos know the proper hand signals when traveling in traffic and have an adult at the front and back of the line when possible.
Bicycling is one of the best ways to stay in shape, see the sights, reduce pollution and save money on gas this summer. The League of American Bicyclists has been around since 1880, advocating for a bicycle-friendly America. Their website is a great resource for more information on bike safety, how to organize a bicycle event in your local community, and bicycle commuting data. If you're looking for a fun way to stay in shape, perhaps riding your bike to work is one way to go.
Last but not least, a regularly maintained bike is a safe bike, so be sure to take care of the mechanical needs of your bicycle such as:
Proper tire pressure. You should always check your bike for low tire pressure before a ride and carry a pump and patches in your basket or saddlebags. Understanding how to patch a tire or tube will keep you from being stranded. If you're not sure how to repair a bicycle tube or tire, there are lots of helpful online video tutorials or consult your local bike shop on the best way to care for your bike tires.
Lubricated drivetrain. If your bike's chain rattles and squeaks as you pedal, it needs lubrication. Save yourself time and money by regularly cleaning and lubricating the drivetrain and sprockets, as they are usually not easy or inexpensive to replace. Be sure to clean off any mud or caked on grime before applying lubricant.
Properly functioning brakes. Stopping is as important as moving forward, so always check that your brakes are in good working order before a trip.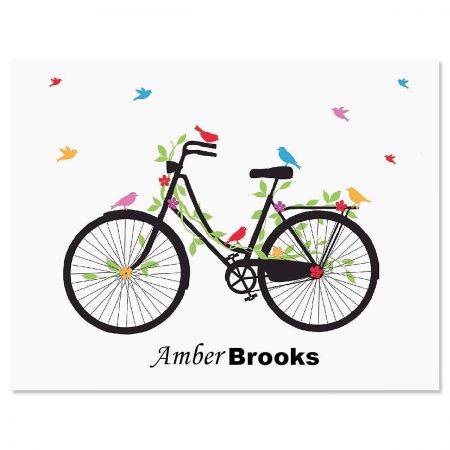 America is a beautiful place to visit, whether you're driving cross-country in a car or simply cycling in your own city. We hope these bicycle safety tips will help you enjoy the freedom and fun of hitting the road on your two wheeler this summer. For a cute gift for biking lovers shop our personalized bike notecards. Ride safe, and happy biking!