It is often said that transition is the hardest part of any change. Transition is the process we undergo when we change from one place or state of being to another. Transition means change, alteration, conversion, transformation. Transition can be scary, because it requires letting go of the familiar and embracing the unfamiliar, which is usually uncomfortable. Change takes us out of our comfort zone, whether self-initiated or brought about by circumstances beyond our control. Change raises questions such as "Am I making the right decision?", "Am I equipped for this?", "Why am I doing this?", and the scariest question of all, "What if I fail?"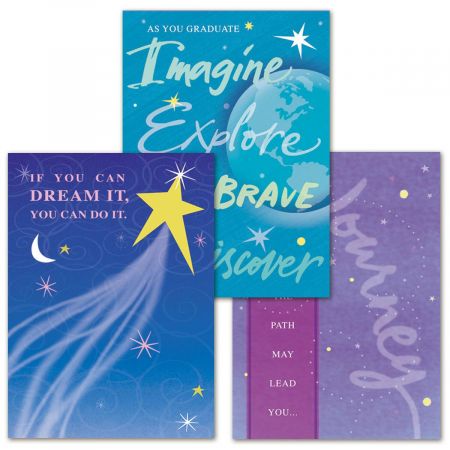 Although graduation is a time of celebration, it also represents a transition to adulthood, which is a tremendous amount of pressure for a student. If you have a recent graduate in the family, whether from high school or college, there are a few things you can do to help your grad make the transition to a new phase of life. First, reassure your grad of your support. Many times the hardest part of transitioning to a new adventure whether it's a new school, a new job, or living on our own for the first time is feeling as though we are "out there" on our own. Let your graduate know with a written message they can treasure that you are their cheerleader, supporter, biggest fan, and that you believe in their ability to succeed, no matter what the challenge. Give them time to let go of the old and reassure them that they are equipped to handle the change.
Once you have offered your emotional support, help (don't force) your graduate to let go of the familiar and accept that every change is both an ending and a new beginning. Encourage your grad to focus on the benefits of making the change. Talk about the end goal or the eventual outcome of the change such as a college degree, a job in their field of interest, their first chance to live on their own, the opportunity to make a difference in the world around them. Buy your graduate a copy of the classic book "Who moved my cheese?", a lighthearted motivational business fable about how to deal with change.
Give your grad some practical tools to help them manage the change ahead, such as a session on how to manage a budget, complete with a budgeting workbook or bill paying organizer of their own. Discuss ways to plan their time to get the most out of every day, and give the gift of a personalized planner to help them get started. Is your grad starting a new career? Surprise them with a gift basket of office goodies, like colorful file folders, a desk top organizer to hold all their pens pencils, scissors, staplers and sticky notes, a wall calendar, work hours log book, personalized thank you notes, business cards, an address stamper, notepads, and anything else you can think of that will help your graduate stay organized and productive whether they're working from home or at an office.
If your graduate is transitioning from college to the working world, this may be the first time in life they face an uncertain path, even if they have a job lined up. This is the first time they will deal with realities like paying rent, managing bills, integrating into a new group of people they may have little in common with, and other real world issues. Reassure your grad that they have your support and continue to be a listening ear when they seek your advice on being successful in their new environment.