Babies! They're cute, cuddly, and smell good (most of the time). If you have a friend, relative, coworker, or neighbor who has just been blessed with a baby, here are a few ways to express your congratulations:
Your family just grew, and your heart just got a little bigger. Congratulations!
We are so happy for your new addition! Congratulations on the birth of your baby girl/boy.
Your wish came true! Congratulations on your little bundle of joy.
I am so glad you have been blessed with the gift of a child. God bless you and congratulations!
You are the best parents this baby could have asked for. Congrats to all of you!
Welcome to the land of sleepless nights! They're tough, but the payoff is priceless.
I can't think of anyone who deserves the blessing of a baby more than you. Congratulations!
I am so happy for you! Congratulations on your new family member.
Your world just got a little brighter. Congratulations on your new baby!
You are going to be the best mom on the planet. Next to me, of course. Cheers!
When you look at your child, you will understand unconditional love. Congratulations.
We have known each other for a long time, and I couldn't be happier for this new little light in your life. Huge congrats!
I am a little jealous, I've got to admit. I'm sure some babysitting time will help with that. Call me when you're ready to stop gazing into your baby's eyes for a few hours.
I admire you. You are going to be a phenomenal parent. Hats off to you!
When the days seem too long and hard to bear, picture your baby's smile and everything else will fade away. Congratulations on your precious girl/boy.
Now you will understand a little bit of how God feels when He looks at you! Congratulations on your big little blessing.
My heart is full of joy for you and your family. No one deserves this more than you. Congratulations.
Your lives are an inspiration to so many people. Congratulations on the answer to your prayers.
You two were the perfect couple; now, you're the perfect family. Congratulations!
You just got the perfect gift. That's why all I got you was this card.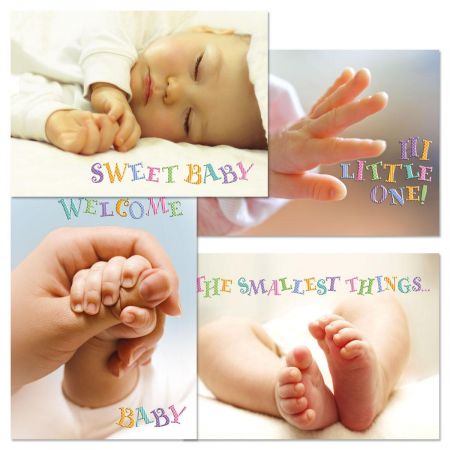 A welcome baby card can quickly become a favorite keepsake, especially if mom, auntie, grandma, or best girlfriend is a scrapbook person. Browse through our selection of adorable note cards to find the perfect way to convey your heartfelt wishes for your friend's or relative's baby bliss. Consider purchasing a pack of personalized note cards with the little one's name so mom can send out thank you notes on baby's behalf.