One of the things most of us look forward to during the cold winter months are wonderful winter casseroles that warm the heart and soul, not to mention the body. When it's cold outside, nothing says "hearth and home" like the smell of a mouthwatering casserole baking in the oven, just waiting to be enjoyed. Casseroles are comfort food, easy to make, and a delight to consume. We brought you some of our favorite winter casserole recipes for your culinary enjoyment this month. So pick a recipe, pull out your favorite casserole dish, and dive in!
With more online raves than any other recipe on Sunset.com, this homey, comforting casserole summons up the past in the best possible way. Everything about it is familiar and easy: tortillas layered with ground turkey, enchilada sauce, and seasonings, plus lots of cheese. We love it with ground beef, too.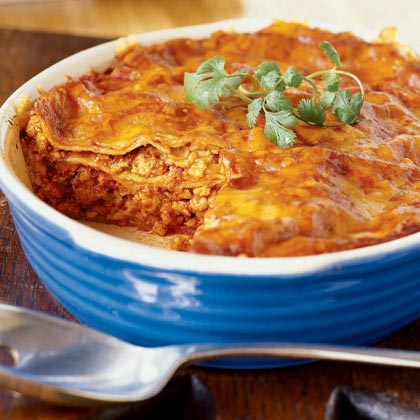 Turkey Enchilada Casserole
Ingredients:
1 1/2 pounds ground turkey breast
1/2 cup chopped onion
1 tablespoon minced garlic
2 tablespoons minced fresh oregano leaves or 1 tablespoon dried
1/2 teaspoon ground cumin
1 teaspoon salad oil
1 can (29 oz.) red enchilada sauce
Salt
12 corn tortillas (6 in. wide)
2 cups shredded jack cheese (8 oz.)
Chopped fresh cilantro
Directions:
In a 5- to 6-quart pan over high heat, stir turkey, onion, garlic, oregano, and cumin in oil until turkey is crumbly and no longer pink, about 4 minutes. Stir in 1 cup enchilada sauce. Add salt to taste.
Meanwhile, cut tortillas in half. Arrange a fourth of the halves evenly over the bottom of a shallow 3-quart casserole, overlapping to fit. Sprinkle a fourth of the cheese evenly over the tortillas, then top with a third of the turkey mixture and a fourth of the remaining enchilada sauce, spreading each level. Repeat to make two more layers of tortillas, cheese, turkey mixture, and sauce; top with another layer of tortillas and sauce, then cheese.
Bake in a 425° regular or convection oven until cheese is melted and casserole is hot in the center, 18 to 20 minutes. Sprinkle with chopped cilantro. Makes 8 to 10 servings.
Do you love your veggies? There's plenty of room for healthy veggies in comfort food casseroles! Here's the gluten free (and delicious!) proof from the chefs over at The Kitchn. Tip: Sauté the onions to help make them tender and tasty before mixing them in with the other ingredients. If you cook the onions while you're prepping the sweet potatoes, they should be done by the time you're ready to put the whole thing together. Leftovers of this yummy dish can be stored in the fridge for up to five days.
Smoky Sweet Potato and Black Bean Casserole
Ingredients:
Cooking spray or olive oil
2 tablespoons olive oil
1 medium yellow onion, diced
2 pounds sweet potatoes, peeled and cut into 1/2-inch cubes
1 (28-ounce) can fire-roasted diced tomatoes, drained of juices
1 (15-ounce) can black beans, drained and rinsed
3 cups shredded smoked mozzarella cheese (about 7 1/2 ounces), divided
1 tablespoon smoked paprika
1 tablespoon kosher salt
2 cloves garlic, minced
Plain yogurt (for serving)
Coarsely chopped fresh cilantro (garnish)
Directions:
Arrange a rack in the middle of the oven and heat to 400°F. Coat a 9×13-inch baking dish with cooking spray or olive oil; set aside.
Heat the olive oil in a large frying pan over medium heat until shimmering. Add the onion and cook, stirring occasionally, until softened, 8 to 10 minutes. Add the sweet potatoes and cook until just heated through, about 5 minutes (they will not be cooked through). Transfer the mixture to a large bowl.
Add the black beans, drained tomatoes, 1 cup of the mozzarella, smoked paprika, salt, and garlic and stir to combine. Transfer to the baking dish and spread into an even layer. Sprinkle evenly with the remaining 2 cups mozzarella cheese.
Spray a large sheet of aluminum foil with cooking spray or coat with olive oil. Place the foil greased-side down over the baking dish and cover tightly. Bake for 30 minutes. Uncover and bake until the sweet potatoes are tender and the cheese on top is browned in spots, about 30 minutes more. Let cool 10 minutes before serving topped with yogurt and cilantro. Serves 8.
If anyone understands what it takes to make chicken pot pie, it's the folks responsible for this easy-peasy stovetop version from Southern Living. A large rotisserie chicken offers just the right amount of chopped, cooked chicken for this recipe, and makes this a chicken pot pie you can throw together in just a few minutes. If your family loves the traditional pie crust topping, a thawed, store-bought crust spread on top will let you pop the whole thing in the oven to bake once it's put together. This recipe serves six to eight, and leftovers can be kept in the fridge for three days, but they probably won't hang around that long!
One Dish Stovetop Chicken Pot Pie
Ingredients:
8 frozen buttermilk biscuits (or store bought pie crust)
1 small sweet onion, diced
1 tablespoon canola oil
1 (8-oz.) package sliced fresh mushrooms
4 cups chopped cooked chicken
1 (10 3/4-oz.) can reduced-fat cream of mushroom soup
1 cup low-sodium chicken broth
1/2 cup dry white wine
1/2 (8-oz.) package 1/3-less-fat cream cheese, cubed
1/2 (0.7-oz.) envelope Italian dressing mix (about 2 tsp.)
1 cup frozen baby peas, thawed
Directions:
Bake biscuits according to package directions.
While biscuits are baking, sauté onion in hot oil in a cast iron pan over medium-high heat for five minutes or until golden brown.
Add mushrooms and sauté another five minutes, or until tender.
Stir in chicken and next five ingredients.
Cook, stirring frequently, until cheese is melted and mixture is thoroughly heated.
Stir in peas and cook for two minutes.
Spoon chicken mixture over hot split biscuits
Note: if you opt for the pie crust cover, simply place it over the top of the filling, tucking the edges inside the cast iron pan. Cut one-inch slits in the crust to allow it to vent and bake in the oven at 400 degrees until golden brown (about 15-20 minutes).
There you have it; three options for wonderful winter casseroles that will warm you up from the inside out and chase away the chills in the most delicious way possible.