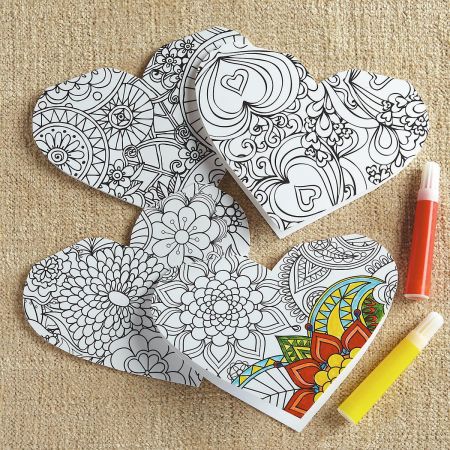 Valentine's Day is a fun day for kids, and we have some crafting ideas that can help your little ones have a great time. Make a special box to collect and keep Valentine's Day cards from family, friends and classmates.
Here's the recipe from Diamonds for Dessert:
Ingredients:
3 cups flour
1/2 cup cornstarch
1/4 tsp salt
1/2 tsp baking powder
1/2 tsp baking soda
1 stick (8 tbsp) butter, at room temperature
1 cup sugar
1 large egg
2/3 cup fat-free milk
Natural food coloring
Directions:
Cream butter and sugar together, and mix in the egg. In another bowl, combine the dry ingredients. Pour half of the dry mix into your butter/sugar/egg mixture and combine. Mix in the milk and add in the remaining half of the dry ingredients.
For colored hearts, divide the dough into five equal pieces. Add two drops of food coloring and knead into one piece of dough. Repeat with the other dough pieces using different food colorings. Wrap each piece of dough in plastic wrap and chill for 1 hour.
Preheat the oven to 325ºF. Sandwich one piece of dough between two pieces of plastic wrap on a flat surface, or place on a flat, floured surface. Roll dough out to 1/8 inch thick and cut with a heart-shaped cookie cutter. Place cut-outs on parchment-lined cookie sheets.
Bake each sheet for 15 minutes. Then cover each sheet with a piece of aluminum foil (to preserve the colors) and bake for 10 more minutes. Let cool on the tray. If the cookies still aren't crunchy after cooled, place back in the oven, still covered by the foil, and bake for 5-10 more minutes and then let cool again. Feel free to skip the 2nd baking step if you'd prefer softer cookies.
*If you want flatter cookies (less baking time is needed for flatter cookies), either poke each cookie with a fork so that the cookies are covered with holes, or roll the dough thinner, 1/16 inch thick. Then, bake each sheet for 15 minutes and let cool. If still not crunchy, replace in the oven for 5-10 more minutes, covered in foil. Makes approximately 50 large cookies or 75 small cookies.