Turkey may be traditional for Thanksgiving, but sometimes an alternative main dish is needed, whether it is due to allergies, food intolerances, or just because the crowd is clamoring for something different. Here is a selection of delicious main courses embracing beef, pork, salmon, lamb, and roast chicken.
From Martha Stewart, we bring you this recipe for Pork with Persimmons and Mustard Greens. This palate-pleasing recipe takes less time than turkey, so you have more time to spend with your guests. You will need:
2 pounds pork loin, tied
1 pound persimmons, tops trimmed, cut into 1-1/2 inch wedges
1 bunch mustard greens, large stems removed (approx. 14 ounces)
6 garlic cloves, peeled
½ cup Marsala wine
1 tablespoon extra virgin olive oil
Coarse salt and freshly ground pepper
Directions:
Preheat oven to 425 degrees.
Season pork with 1 1/2 teaspoons salt and 1/2 teaspoon pepper. Place pork in a 12-inch cast-iron or other heavy ovenproof skillet.
Toss persimmons and garlic with oil; season with salt and pepper. Scatter around pork.
Roast 15 minutes. Turn over persimmons, and continue to roast until pork reaches an internal temperature of 125 degrees, 20 to 25 minutes.
Transfer pork to a cutting board, tent with foil, and let rest 15 minutes (pork will continue to cook as it cools). Meanwhile, if persimmons are still firm, roast until fork-tender.
Paleo stuffed flank steak with caramelized onions, spinach, and red wine is certainly a departure from the traditional Thanksgiving feast, but Lisa Wheeler of Rafter W Ranch in Simla, Colorado swears by it. You will need:
Skirt or Flank Steak, approx 1 pound
2 tablespoons red wine
1 teaspoon unrefined sea salt
½ teaspoon freshly ground black pepper
4-8 cloves garlic, crushed
2 tablespoons tallow, coconut oil, or other cooking fat of choice (divided)
6-8 ounces mushrooms, sliced
1 large onion, sliced
2 cups arugula or chopped spinach
Kitchen twine
Directions:
Melt 1 tablespoon tallow in the bottom of a large skillet (cast iron is my preference) over medium heat. Once tallow is melted, add onions and mushrooms and sauté, stirring every few minutes for a total of 20 minutes or until onions are caramelized.
As the mushrooms and onions cook, butterfly steak by laying it flat on a cutting board, and using a sharp, thin knife to open up the steak. By cutting it crosswise so that when you are done it is twice as wide and half as thick. This makes a nice rectangle for you to roll up. Once opened up, sprinkle beef evenly with red wine, garlic, sea salt, and pepper, and allow to rest.
When onions are golden, remove from heat and allow to cool slightly.
Top beef evenly with arugula, and then onion/mushroom mixture.
Starting from the bottom (narrow end of the beef), tightly roll up the beef/arugula/onion layers. Once rolled, turn so the seam side is down and the weight of the beef holds it together.
Wrap and tie kitchen twine 3-4 times around the beef roll firmly to hold it together. Wipe out cast iron pan and melt the remaining 1 tablespoon of tallow over medium-high heat.
Preheat oven to 375* F.
Sear beef roll on 3 sides for 2 minutes each once the skillet is hot again. Turn to the 4th (unseared) side down and then cook in the oven for 30 minutes, or until an internal temperature reaches 130-145* (just make sure to have your thermometer in the meat and not in the veggies.
Remove from heat and cover with foil and allow to rest for 15 minutes before serving. To serve, snip string and gently remove. Use a sharp knife to cut into 1-inch pinwheels.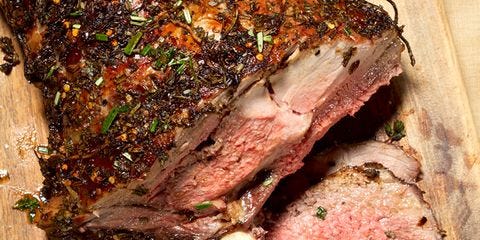 Roast Leg of Lamb. This recipe by Chris Pandel from The Bristol in Chicago comes to you courtesy of com, and promises this lamb dish will be "meltingly tender with just a little game to excite the palate". You will need:
1 semiboneless leg of lamb, about 6 lbs.
1 tbsp coarsely ground black peppercorn
1 tbsp red-chile flakes
1 fresh bay leaf (chopped) or 1 dry bay leaf (crumbled)
leaves from 4 sprigs of thyme
2 tbsp finely chopped rosemary
2 tbsp finely chopped mint
1 cup olive oil
¼ cup balsamic vinegar
¼ cup honey
¼ cup coarse salt
Directions:
Whisk together everything except the coarse salt. You will probably use only about half the rub mixture, so reserve the remainder and use it as a dressing on greens to make fantastic sandwiches with leftover lamb.
Place the roast on the rack in the roasting pan and sear in the oven for 20 minutes. Reduce heat to 325 and roast until a meat thermometer inserted in the thickest part (and away from the bone) reads 130 to 135 for medium rare. Allow about 15 to 18 minutes per pound and begin checking after 90 minutes.
Remove and loosely cover the roast with aluminum foil, allowing the lamb to rest. Carve and serve with black olive tapenade. Serves six with leftovers.
Broiled Salmon with Marmalade-Dijon Glaze recipe by Cooking Light is a favorite from com and we think it will become one of your favorites, too. You will need:
Four 6 ounce salmon fillets
½ cup orange marmalade
1 tablespoon Dijon mustard
½ teaspoon garlic powder
½ teaspoon Salt
¼ teaspoon black pepper
1/8 teaspoon ground ginger
Cooking spray
Directions:
Preheat broiler. Combine marmalade, mustard, garlic powder, salt, black pepper, and ground ginger in a small bowl, stirring well.
Place fish on a jelly-roll pan coated with cooking spray. Brush half of marmalade mixture over fish; broil 6 minutes.
Brush fish with remaining marmalade mixture; broil for 2 minutes or until fish flakes easily when tested with a fork or until desired degree of doneness. Serve with salad and roasted potatoes.
Coffee Rubbed Roasted Chicken. For a tasty twist on roasted chicken, try this flavorful recipe for a coffee, brown sugar, and butter rub from com. You can use this rub on pork, beef, or duck as well. You will need:
3 tablespoons finely ground Whole Trade® coffee beans
3 tablespoons unsalted butter, softened
1 tablespoon light brown sugar
1 clove garlic, finely chopped
1 teaspoon ground black pepper
1/2 teaspoon fine sea salt
1 (3- to 4-pound) whole chicken
Directions:
Preheat the oven to 375°F. In a small bowl, stir together coffee, butter, sugar, garlic, pepper, and salt. Arrange chicken, breast side up, in a shallow roasting pan and spread rub all over to coat completely. While not necessary, you may cover and refrigerate up to two days at this point.
Roast chicken, basting every 20 minutes or so with pan juices, until skin is deep golden brown and crisp and meat is cooked through, about 1 hour.
Set aside to rest 10 minutes then transfer to a cutting board, carve, and serve hot.
There you have it, five mouthwatering twists on traditional Thanksgiving turkey. Whatever you decide to cook this year, we hope you have an enjoyable day gathering around the table with your friends, family, and loved ones.