Summertime is grilling time, and kids love to eat outside and get in on the fun. For those little ones who want to help you cook up the best outdoor meal ever, we have some dishes they can help prepare without getting in front of the grill, so they can feel like they're a part of the process without getting too close to the fire.
Hobo Bundles
These meals in a pouch are great for camping out, but they can also be fun to grill right in your own back yard. Kids can help with the food prep and enjoy the throw away containers that mean no dishes to wash! Thank you to Sunset Magazine for this recipe.
Ingredients:
Potatoes, onions, and carrots, chopped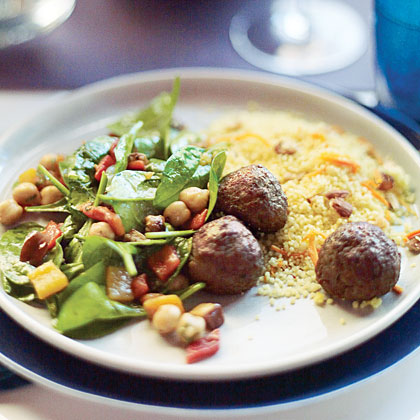 Moroccan Meatballs
1-1/4 pounds ground pork
1-1/2 tablespoons of minced garlic
2 teaspoons of ground cumin
2 teaspoons of ground paprika
1/3 cup finely chopped onion
1-1/2 teaspoons of salt
1 teaspoon of freshly ground black pepper
Foil squares – brush one side with oil
Directions:
For the meatballs:
Stir together ingredients in a medium bowl
Form into meatballs, each about the size of a golf ball
Place three meatballs in the center of an oil brushed foil square
Fold foil around meatballs and chopped veggies by bringing the two opposite sides of the foil together across the middle and making a seam one inch wide. Fold the seam on itself again, then fold it flat on the packet. Fold the ends on themselves about one inch, then repeat to seal the packet securely. Set packets on the hot grill and cook, turning over with grilling tongs every 10 minutes, until the vegetables are tender and the meatballs are cooked through, about 30 minutes total.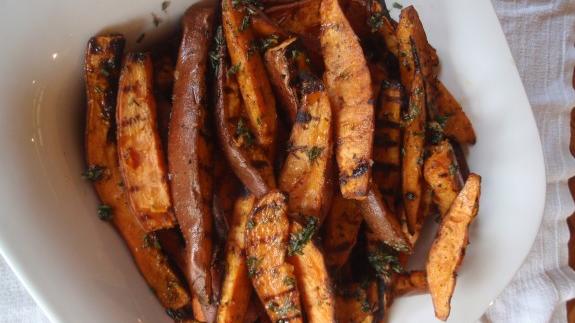 Grilled Sweet Potato Wedges
Thank you, Bobby Flay for this delicious idea! The kids can help by mixing up the dry ingredients and stirring the syrup and mustard together.
Ingredients:
3 sweet potatoes, cooked through, cut into wedges
Canola oil, for brushing
1 tablespoon Bobby Flay Poultry Rub
Kosher salt and black pepper
1/4 cup maple syrup
2 to 3 tablespoons Dijon mustard
Directions:
Let the kids brush the potato wedges with oil and sprinkle with rub, salt and pepper. Grill, turning once, until nicely marked. Whisk the syrup with the mustard. Brush the potatoes with the glaze and turn a few times to caramelize.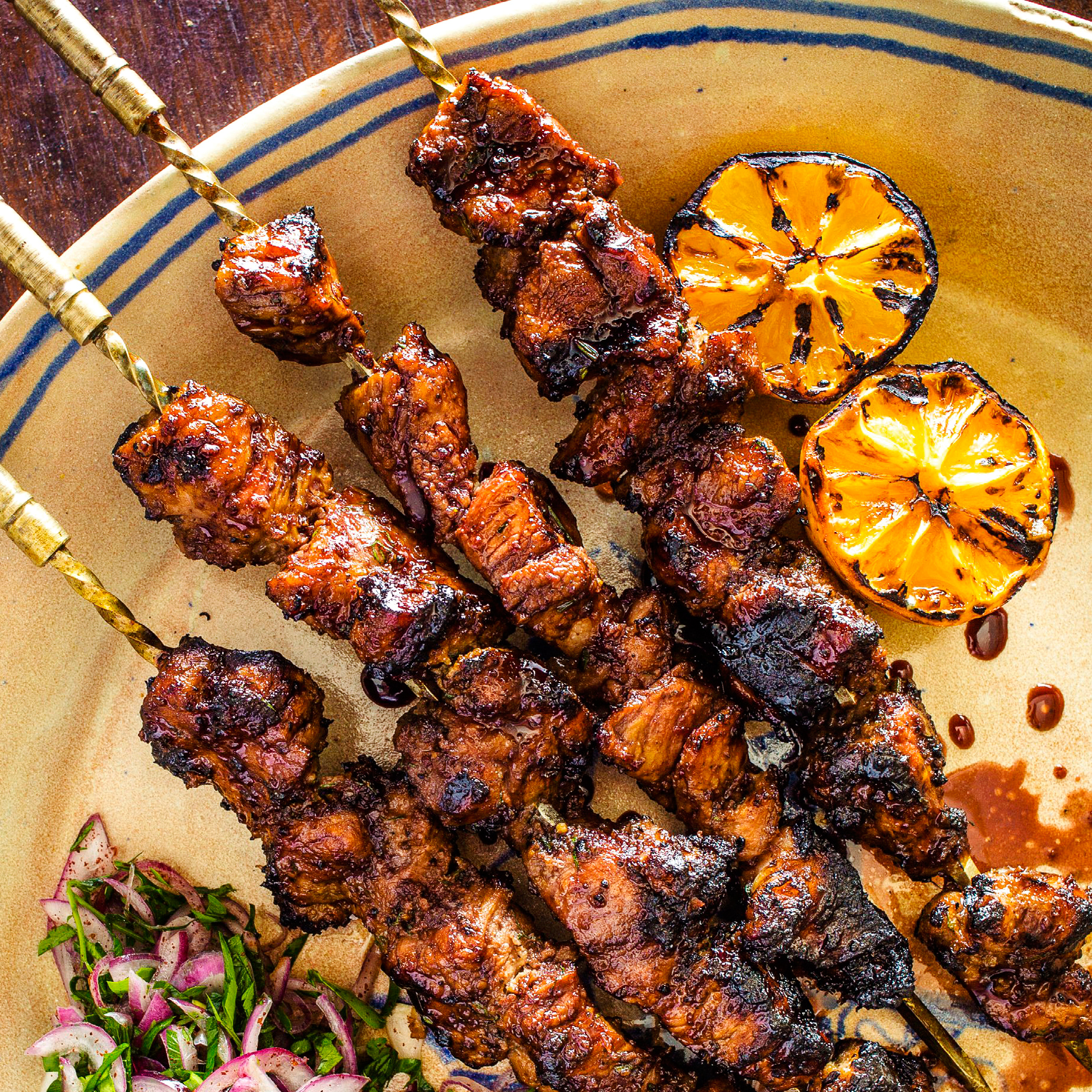 Pork (Chicken, or Turkey) Skewers
Thick pork chops are a great way to get the meat for a great skewer meal. Add some chopped pineapple and red bell pepper pieces for a healthy meat and veggie kebab. Cut chicken or turkey work just as well. Freeze your meat for 10 to 20 minutes to make cutting it up easier. Once cut, help the kids thread the pieces on the skewer to make sure they don't injure themselves. Thanks to the Food Network for this idea. (Your favorite meatballs will work, too!)
Ingredients:
Pork, chicken, or turkey
Sweet red bell peppers
Fresh pineapple
Directions:
Cut meat into 1 inch cubes
Cut pineapple and peppers into similar sized chunks
Thread onto wood or metal barbecue skewers (If using wood, soak skewers in water 30 mins)
Brush with marinade of your choice, coconut or olive oil
Sprinkle with salt and pepper
Place skewers over medium coals or medium heat on a gas grill
Cook until brown on both sides, turning once (total cook time is about 8 minutes)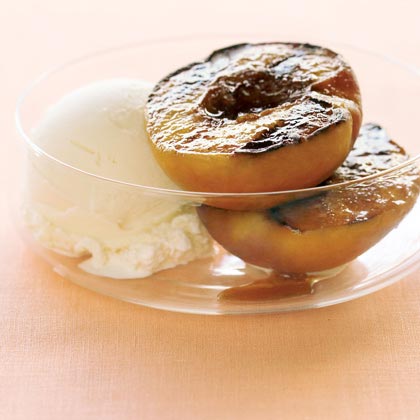 Grilled Peaches
You can keep this recipe really simple by slicing and pitting fresh peaches and placing them cut side down directly on the grill for a few minutes, or try the yummy alternative using foil packets and granola for a peach crisp for one.
Ingredients:
Firm, ripe peaches
6 tablespoons butter
¼ cup brown sugar
1 teaspoon cinnamon
For peach crisps for one, add:
4 tablespoons of granola
Pinch of kosher salt
Vanilla ice cream or frozen yogurt for topping
Directions for glazed grilled peaches:
Rinse peaches; cut each in half and pit. In a 9- to 10-inch frying pan over medium-high heat, melt butter; add sugar and cinnamon mixture, and stir until well blended. Remove pan from heat, set peaches in butter mixture, and turn to coat evenly.
Lay peaches cut side down, on a barbecue grill over a solid bed of medium coals or medium heat on a gas grill (you can hold your hand at grill level only 4 to 5 seconds); close lid on gas grill. Cook until peaches are hot and lightly browned on the bottom. Brush tops with more butter mixture, then turn fruit over and brush cooked sides with mixture. Cook until peaches are warm but still hold their shape, 6 to 10 minutes total.
Directions for peach crisp in foil:
Prepare a grill for medium-high heat. Cut four 12-inch square pieces of heavy-duty foil. Mix together sugar, butter and a pinch of kosher salt in a small bowl. Cut peaches in half and remove the pits. Fill pit hole in each peach half with some of the brown sugar-butter mixture.
Put peach halves, stuffed-side down, in the center of each piece of foil. Gather up the sides of the foil and crimp the edges tightly to make 4 purse-shaped packets. Put the packets on the grill, close the lid and cook for 15 minutes, changing the position of the packets about halfway through. Remove and let packets rest for a few minutes before serving.
Carefully open each packet (watch out for hot steam!) and use a spoon or fork to flip the peach halves over, they should be tender with a caramelized sauce. Top each serving with granola and a scoop of ice cream or frozen yogurt if desired.