If you've never tried cooking with stone fruits (think peaches, nectarines, plums, cherries, and apricots) you've been missing out on a healthy and unique taste sensation! Summertime is the time for stone fruit, so we've got some delicious recipes from our friends at Sunset Magazine to share with you. Try one or all three for a delicious three course meal filled with summery goodness. Your taste buds will thank you!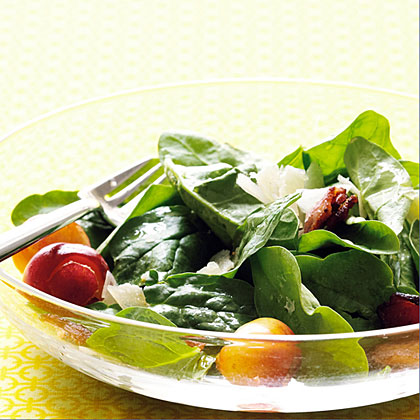 Cherry and Bacon Spinach Salad
For the appetizer, first course, or for a light meal all on its own, this salad will not disappoint. Substitute fresh ripe cherries in recipes that call for dried cherries, or in place of the canned mandarin oranges you've been tossing in during the winter months. Your spinach salad gets a whole new flavor that we think you'll fall in love with.
Ingredients:
8 ounces thick-cut bacon, cut into 1-in. pieces
8 ounces baby spinach
8 ounces pitted Rainier cherries
2 tablespoons Champagne vinegar
2 tablespoons extra-virgin olive oil
1/2 teaspoon kosher salt
2 ounces shaved aged manchego cheese
Directions:
Cook bacon in a large frying pan over medium heat, stirring often until crisp, about 10 minutes. Drain on paper towels and reserve bacon grease.
Put spinach, cherries, vinegar, oil, salt, and 2 tbsp. reserved bacon fat in a serving bowl; toss to coat. Sprinkle with bacon pieces and top with cheese.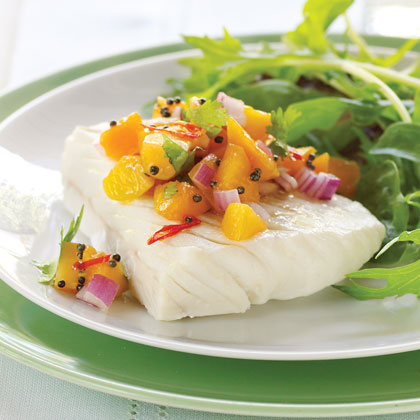 Chilled Poached Halibut with Fresh Apricot Salsa
This chilled main course makes a wonderful choice for a meal that won't weigh you down on a hot summer day. Take the natural sweetness of apricots in another direction by kicking it up a notch with mustard seeds, cilantro, and a little chile.
Ingredients:
2 tablespoons vegetable oil
2 teaspoons brown mustard seeds (see Notes)
1 pound apricots, preferably Blenheim
2 tablespoons fresh lemon juice
1/2 cup diced red onion, rinsed and drained
1/4 cup coarsely chopped fresh cilantro
1/4 to 1/2 red jalapeño, stemmed, seeded, and cut into rings crosswise as thinly as possible, or 1/4 to 1 tsp. minced seeded habanero chile
About 1 tbsp. coarse kosher salt, divided
1/2 lemon, cut into thin slices
4 halibut fillets (6 oz. each and 3/4 in. thick)
Directions:
Put oil and mustard seeds in a skillet, cover, and heat over medium-high heat. Don't be afraid when they start popping wildly! When the popping sounds die down, remove the pan from heat. Let it cool slightly, uncovered.
Halve and pit the apricots; cut them into 1/2-inch pieces, and dice. Put diced apricots in a large bowl and toss gently with lemon juice, onion, cilantro, chile, and mustard seeds with oil. Stir in 2 tsp. salt and chill for at least 30 minutes, or up to 2 hours.
Wipe skillet clean with paper towels and fill half-full with water. Add 1 tsp. salt and lemon slices. Heat water over medium heat until gently simmering. Add fish and cook, covered, until just opaque in center (cut to check), 5 to 8 minutes. Transfer fish with a spatula to a platter and chill at least 20 minutes. Season with salt to taste and serve cold, with salsa.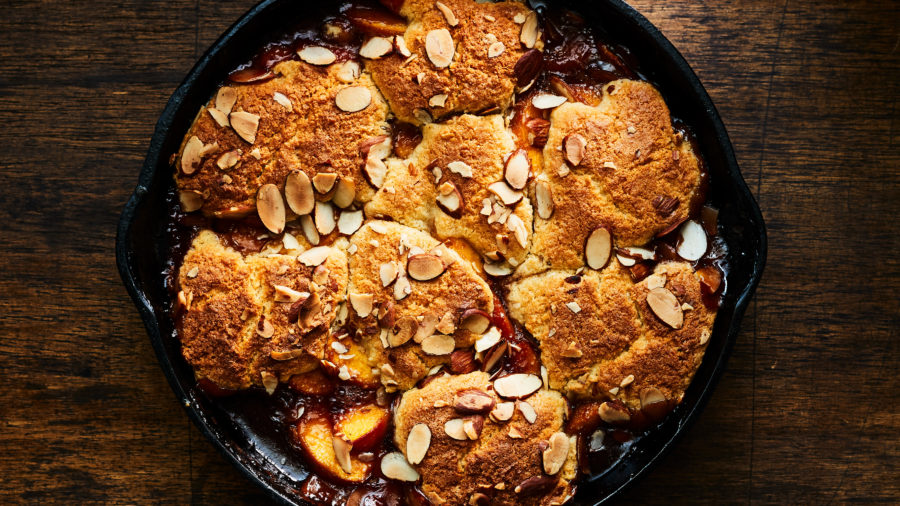 Peach and Bourbon Cobbler with Almond Spoon Cake
We had you at "peach and bourbon" didn't we? You won't be disappointed – and neither will your guests – when you dip your spoons into this delectable combination of summer sweet peaches and body-warming bourbon. The perfect summer dessert or late night snack on the back deck as you enjoy a warm summer evening.
Ingredients:
Filling
2 ¾ lbs juicy, firm-ripe peaches
½ cup packed dark brown sugar
1 tbsp each cornstarch, quick-cooking tapioca, and lemon juice
3 tbsp bourbon
Topping
¾ cup flour
¾ tsp baking powder
¼ tsp kosher salt
¼ cup almond paste
3 tbsp granulated sugar
6 tbsp salted butter, softened
1 large egg
3 tbsp whole milk
⅓ cup sliced almonds
Directions:
Preheat oven to 375° (350° if using a glass baking dish). Make filling: Immerse a few peaches at a time in a saucepan of boiling water until skin loosens easily with a knife tip, 15 to 30 seconds. Peel fruit.
In a large bowl, combine brown sugar, cornstarch, and tapioca. Stir in lemon juice and bourbon. Cut peaches into 1/2-in.-wide wedges to make 6 1/2 cups. Stir peaches into bourbon mixture and let stand 15 to 20 minutes, stirring occasionally, for tapioca to begin to soften.
Meanwhile, make topping: Combine flour, baking powder, and salt in a bowl. In a food processor, whirl almond paste and granulated sugar to break up. Add butter; whirl until no lumps remain, scraping bowl. Add egg, milk, and flour mixture and pulse just until blended. Transfer to bowl used for flour.
Scrape fruit mixture into a 10-in. cast-iron skillet (2 in. deep) or an 8-in. square baking dish. Drop batter in 8 large spoonfuls over fruit and scatter all over with almonds. Bake until topping is golden brown and filling is bubbling, about 40 minutes (50 minutes for a glass dish). Let cool on a rack at least 30 minutes.
Try these summertime stone fruit recipes soon and be sure to leave us a comment on our Facebook page letting us know which one is your new favorite. We won't mind at all if you say "All three!"