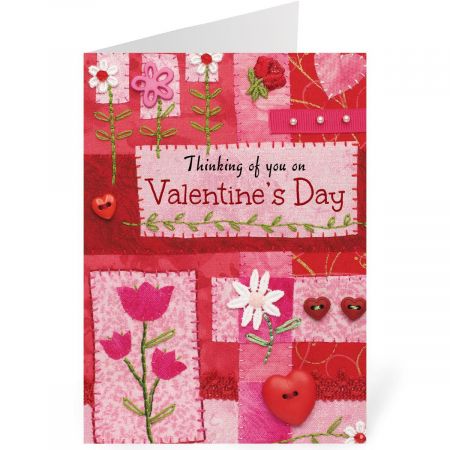 The holiday of happy hearts will be here soon! Valentine's Day cards are a great way to say "I love you" to someone special, "I appreciate you" to a friend, coworker, or child's teacher, and "I miss you" to someone far away. Here are our suggestions for what to say in a Valentine's Day card:
You deserve a day fit for a princess! Have a royally wonderful Valentine's Day.
You do so much for everyone during the year. Today, I just want you to know how much you are appreciated.
May your day be filled with love and your heart be filled with joy.
Happy Valentine's Day! You top my list of favorite people, and I thought you should know.
Here's to your Valentine's Day being so full of love your face hurts from smiling!
You make my heart so happy!
You fill my heart with love, so this card is filled with my love for you.
Your love has put a permanent smile in my heart.
I never knew what true love meant until I met you.
Thank you for giving me a reason to have a happy heart on Valentine's Day. I love you!
It just doesn't get any better than you and me, together.
Having you in my family makes it complete. Lots of love on this Valentine's Day.
Of all the holidays, Valentine's Day is my favorite, and it's all because of you.
My heart is full of love and thankfulness for all you do to make my life special.
Other people may not understand you, but I think you're perfect, and I know you're perfect for me!
Mom, you never forget to make me feel special, every day of the year. Happy Valentine's Day to my favorite girl!
Dad, you'll always be my favorite Valentine.
There's never a wrong time to tell someone you love and appreciate them, and I do.
You may not be close enough for me to hug, but here's a Valentine's Day wish that you can feel the love across the miles.
My heart is so full of love for you that it spilled over into this card!
However you say it, everyone likes to be told they are loved, thought of, appreciated, and missed, any time of year. Simply remembering someone enough to send them a personal message in a lovely card will be sure to touch their heart. Send someone special a card for Valentine's Day… it will make their day!