Halloween is in the past, Thanksgiving is just around the corner, and you have pumpkins you don't know what to do with. We can help! We have gathered a few of the most perfect pumpkin recipes we could find from people who know their way around this popular fall staple. These delicious recipes run the gamut from pre-dinner appetizers to post-dinner desserts and offer a fresh take on what to do with all that leftover pumpkin. Here they are, for your dining pleasure:
1. Pumpkin, Charred Kale and Onion Tacos. From the cheeseandchocolate blog comes this wonderful recipe for a savory appetizer we think you'll love. You will need:
1/2 cup balsamic vinegar
2 Tbsp pure maple syrup
3 cups fresh pumpkin, peeled and cut into bite-sized pieces
2 Tbsp olive oil, plus 1/2 tsp, divided
3/4 tsp smoked paprika
1 small bunch kale, stemmed, leaves coarsely chopped
1 yellow onion, sliced
1/4 cup roasted pepitas
salt & pepper
fresh whole milk ricotta
corn tortillas
Directions:
To make the balsamic drizzle, pour the balsamic vinegar and maple syrup into a small saucepan. Bring to a boil then reduce heat to medium and let simmer until it has reduced by about 1/2 and has a slightly syrupy consistency, about 10 minutes. Remove from heat and set aside to cool.
Preheat oven to 425F. On a lightly oiled baking sheet toss the cubed pumpkin with 1 Tbsp olive oil, smoked paprika and season generously with salt and pepper. Spread pumpkin evenly over the baking sheet and roast in the preheated oven, stirring occasionally, until pumpkin is soft and brown in spots, about 20-30 minutes. Transfer pumpkin to a large bowl and set aside.
Set your oven to broil and set an oven rack about 3 inches below your broiler. Toss the kale leaves onto the same baking sheet you used for the pumpkin. Massage 1 Tbsp of oil into the kale leaves and season lightly with salt. Spread evening over the pan and then top the kale with slices of onion. Place kale and onion into the oven and broil for about 5 minutes, or until the onion is starting to brown and the kale is blackened in spots. Remove from oven and transfer to the bowl with the pumpkin. Gently mix the pumpkin, kale and onions together and season to taste with salt and pepper.
To assemble, spread a dollop of fresh ricotta onto a corn tortilla, top with the pumpkin and kale mixture, a drizzle of the balsamic glaze and sprinkling of roasted pepitas.
2. Pumpkin Soup with Crispy Shallots. From Becky at the paleo and gluten-free recipe blog called acalculatedwhisk.com (we love that name!) comes this simple but scrumptious pumpkin soup recipe, perfect for those chilly fall days when you want to curl up with a steamy fall favorite. Becky says you might want to make extra because with a little salt sprinkled on top, they're "pretty much better than bacon". A bold claim indeed! You will need:
For the soup:
1 tablespoon ghee (optional–add another Tbsp of olive oil if omitting the ghee)
1 tablespoon olive oil
1 large or 2 small shallots, minced
2 cloves garlic, minced
1/4 teaspoon sage
1/4 teaspoon cinnamon
1/4 teaspoon garlic powder
Pinch or two of cayenne pepper
Salt and pepper to taste
1 teaspoon white wine vinegar
2 cups low-sodium chicken or vegetable stock
2.5 cups canned or homemade pumpkin puree
1 cup coconut milk
1-3 teaspoons lemon juice, to taste
For the crispy shallots (adapted from Ina Garten):
5 large or 10 small shallots, thinly sliced into rings (enough to yield about 1 cup)
1 tablespoon ghee (optional–add another tablespoon of olive oil if omitting the ghee)
2 tablespoons olive oil
Sea salt to taste
Directions:
To make the crispy shallots, heat the ghee and olive oil in a large cast iron skillet over low heat. Add the shallots and cook, stirring occasionally to help them brown evenly, for 35-45 minutes, or until uniformly deep golden in color.  Transfer to a paper towel-lined plate and sprinkle with sea salt.  The shallots will crisp up as they dry.
Meanwhile, to make the soup, heat the ghee and olive oil in a medium saucepan over medium heat. Add the shallots and garlic and cook, stirring often, until starting to brown. Add the sage, cinnamon, garlic powder, cayenne, salt, and pepper. Add the white wine vinegar and let it bubble away for a minute. Pour in the chicken stock, and bring the mixture to a simmer. Stir in the pumpkin puree and coconut milk, and cook until heated through. Stir in lemon juice and adjust seasonings to taste. For a smoother soup, puree with an immersion blender or in your regular blender. Serve the soup hot with crispy shallots on top.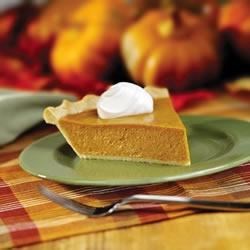 3. Perfect Pumpkin Pie. This one is a given, as pumpkin pie has long been a favorite of both young and old at this time of year. Here is an easy one from Eagle Brand as seen on allrecipes.com. (Full disclosure, we added the optional whipped cream.) A tip from a fan says that heating up the pumpkin and spices will take out the canned taste, resulting in a fresher tasting pie. From jdc4him: "In a medium pan over low heat, heat up the canned pumpkin puree, spices, and salt. Heating the pumpkin puree up takes out the "canned" taste of the pumpkin and melds the spices together nicely. Then, pour the mixture out into another bowl, and let it cool a bit before adding the condensed milk and eggs. This little change makes the pumpkin taste much fresher!" You will need:
1 (15 ounces) can pumpkin puree
1 (14 ounces) can EAGLE BRAND® Sweetened Condensed Milk
2 large eggs
1 teaspoon ground cinnamon
½ teaspoon ground nutmeg
½ teaspoon ground ginger
½ teaspoon salt
1 (9 inches) unbaked pie crust (for a twist, use a crushed graham cracker crust)
Whipped cream for topping
Directions:
Preheat oven to 425 degrees F. Whisk pumpkin, sweetened condensed milk, eggs, spices and salt in medium bowl until smooth. Pour into crust. Bake 15 minutes.
Reduce oven temperature to 350 degrees F and continue baking 35 to 40 minutes or until knife inserted 1 inch from crust comes out clean. Cool. Garnish as desired. Store leftovers covered in the refrigerator.
4. Pumpkin Cheesecake Popsicles. Believe it or not, there are some people who don't like pumpkin pie. Although we find it hard to believe and you may, too, it's true. But, since there's no wrong time of year for ice cream, for your non-pumpkin pie loving guests, we thought you might like to offer a twist on the traditional popsicle with this fall-themed treat from Jessica Curtis at ahappyfooddance.com. You will need:
½ cup sugar
⅓ cup milk
8 ounces cream cheese, softened
¼ cup sour cream
¾ cup pumpkin puree
1 teaspoon pumpkin pie spice
6 standard sized graham crackers
1 tablespoon melted butter
Directions:
In a small saucepan over medium heat, combine milk and sugar and get milk just warm enough to melt sugar. Set aside to cool. (This could also be done in the microwave.)
In a food processor, combine cooled milk mixture, cream cheese, sour cream, pumpkin puree and pumpkin pie spice. Process until smooth and all ingredients are well combined.
Pour mixture into popsicle molds, leaving about 1″ at the top empty for the graham cracker crust. In a food processor, add the graham crackers and process until crackers form fine crumbs. While the food processor is running add butter. The mixture should resemble wet sand. Top popsicles with crust, pressing down to make sure the crust is tight and compact. Insert popsicle sticks and freeze for at least 6 hours or until popsicles have become firm.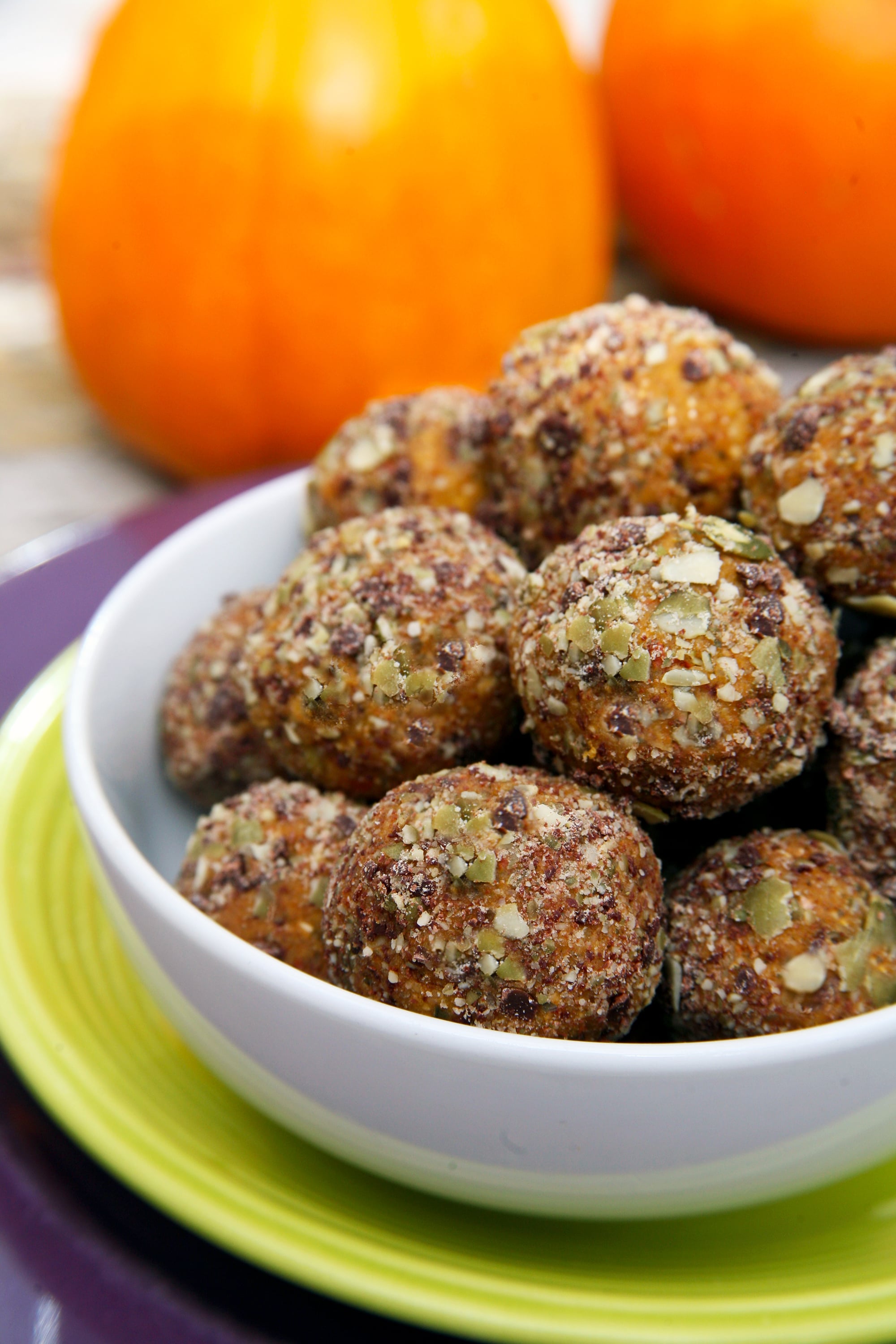 4. Chocolate Chip Pumpkin Pie Protein Balls. For a go anywhere, eat anytime healthy pumpkin snack, these little power balls from popsugar.com are packed with protein and flavor, and only 77 tiny calories each. You will need:
1 cup raw almonds
3/4 cup rolled oats
1/2 cup dates, pitted (about 6)
7 ounces pumpkin puree
1 serving vanilla-plant-based protein powder (about 35 grams)
1/2 teaspoon cinnamon
1/4 teaspoon nutmeg
1/8 teaspoon cloves
4 tablespoons raw pumpkin seeds
2 tablespoons mini dairy-free chocolate chips
Directions:
Add the almonds, oats, dates, pumpkin puree, protein powder, and spices in the food processor. Turn on until choppy dough forms, several minutes.
Add 2 tablespoons of the raw pumpkin seeds, and pulse until combined so the pumpkin seeds remain a little coarse. The dough will be slightly sticky.
In a small food processor or NutriBullet, quickly chop the remaining 2 tablespoons of pumpkins seeds with the chocolate chips — this only takes 1 second; you want it chopped, not powdery. Pour mixture into a small bowl.
Roll dough into 20 balls, roll each in the pumpkin seed and chocolate chip topping, and place on a clean cookie sheet.
Refrigerate for at least 20 minutes to set. Store uneaten balls in an airtight container in the fridge.
There you have it, folks; six perfect pumpkin recipes to carry you through the coming weeks, and take advantage of those leftover sugar pumpkins before they pass their prime. Try one, try a few, try them all, and enjoy the rich and rewarding tastes of fall!