We all know that Memorial Day weekend is the unofficial kick off of the summer season, and it's here! No more cold, snowy days and lots of sunshine to look forward to, but are you ready? If you're not planning a Memorial Day getaway, you might be planning a big backyard barbeque party for all your friends. With gas prices going ever upward, we don't blame you for not wanting to spend the money on a trip. If you're looking for some great recipes for food and drink to serve at your big bash, we've got some great suggestions for you.
From our friends at Sunset Magazine, here are some favorite crowd-pleasing Memorial Day BBQ recipes: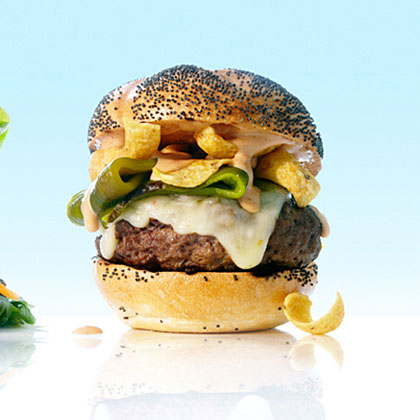 New Mexico Green Chile and Frito Burgers. Make these amazing patties ahead of time and keep them chilled in a cooler until it's time to toss them on the grill. Toppings should be packed separately and also kept cool until ready to serve.
Ingredients:
1 pound ground chuck
1 teaspoon kosher salt
1/4 teaspoon pepper
2 teaspoons vegetable oil, divided
2 fresh Hatch or Anaheim chiles (4 oz. total) or 1 can (7 oz.) Hatch or regular green chiles, sliced
4 slices (4 oz.) pepper jack cheese
2 cups Fritos
3 tablespoons mayonnaise
2 teaspoons chipotle barbecue sauce
4 Kaiser rolls, split
Directions:
Heat grill to medium (350° to 450°). Mix ground chuck, salt, and pepper in a large bowl until just combined (do not overmix). Divide into 4 portions and form into 1/2-in. patties with a slight depression in the center of each to help them cook evenly. Brush with 1 tsp. oil.
Rub fresh chiles with remaining 1 tsp. oil. Grill over high heat, turning often, until blackened, about 4 minutes. Cover with a towel to steam, about 10 minutes. When cool, rub off skins, then stem, seed, and slice chiles into strips.
Grill burgers until cooked the way you like, about 7 minutes for medium. In last few minutes, lay a cheese slice on each burger and lay split rolls on grill.
Arrange burgers on bottom of buns and top with one-quarter of chiles and Fritos. Mix mayonnaise and barbecue sauce and dollop about 2 tsp. onto each burger. Set tops of rolls in place and enjoy!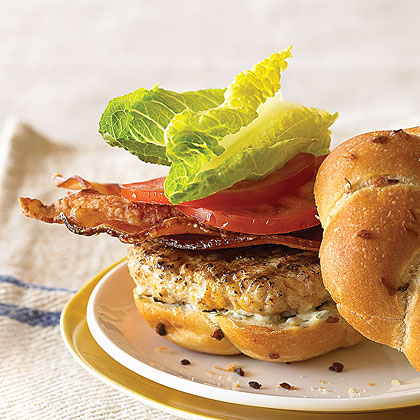 BLT Chicken Burgers. If some of your guests prefer chicken to beef, these deliciously juicy poultry burgers will satisfy their hunger in a bold, new way.
Ingredients:
1 pound ground chicken, preferably a mixture of 1/2 white and 1/2 dark meat
1/2 cup shredded sharp cheddar cheese
1/3 cup grated parmesan cheese
1 teaspoon minced garlic
1/2 teaspoon kosher salt
1/2 teaspoon freshly ground black pepper
1/3 cup mayonnaise
1/4 cup finely chopped fresh basil
1 tablespoon each fresh lemon juice and finely shredded lemon zest
4 onion Kaiser rolls, split
8 strips bacon (about 8 oz.), cooked until crisp
1 large tomato, thinly sliced
4 leaves romaine lettuce
Directions:
Prepare a charcoal or gas grill for medium heat (350° to 450°; you can hold your hand 5 in. above cooking grate only 5 to 7 seconds).
Meanwhile, in a large bowl, gently mix chicken, cheeses, garlic, salt, and pepper. Form into 4 burgers about 3/4 in. thick, making a slight depression in center of each patty (this helps keep burgers flat as they cook). Put on a plate, cover, and refrigerate until ready to grill.
In a blender, whirl mayonnaise, basil, lemon juice, and lemon zest together and refrigerate until ready to use. With a silicone brush or oiled paper towels, lightly oil cooking grate.
Grill burgers, covered, turning once, until browned and no longer pink inside (cut to test), 8 to 10 minutes total. Transfer burgers to a clean plate and place buns, cut sides down, on grill until lightly browned, 30 seconds.
Spread toasted sides of buns with basil mayonnaise. Set a chicken patty on each bun bottom and top each with 2 strips bacon, a tomato slice, and a lettuce leaf. Cover with bun top.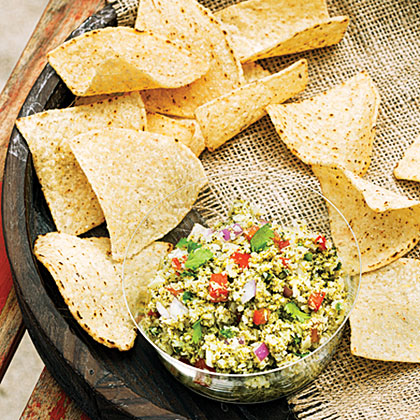 Once you've got your burgers ready, you'll need a tasty side dish, and we've got a great one for you to try this year. You've heard of guacamole, certainly, but have you tried Broccamole? Serve it with multi grain chips for dipping and you've got a fabulously healthy, delicious new side dish everyone will want the recipe for!
Ingredients:
1 pound broccoli florets (from about 2 small heads)
1/2 cup extra-virgin olive oil
1/4 cup lime juice
1/3 cup chopped cilantro leaves
1/3 cup diced red onion
1/3 cup diced seeded tomato
2 serrano chiles, minced (seed if very hot)
3/4 teaspoon fine sea salt
Directions:
Bring a large pot of water to a boil. Cook florets until crisp-tender, 5 minutes, then scoop into a large bowl of ice water to cool. Drain florets, then squeeze out as much water as possible with your hands.
Pulse broccoli in a food processor until finely chopped, then turn into a strainer and drain any liquid. Put in a medium bowl and stir in remaining ingredients. Season with more salt to taste.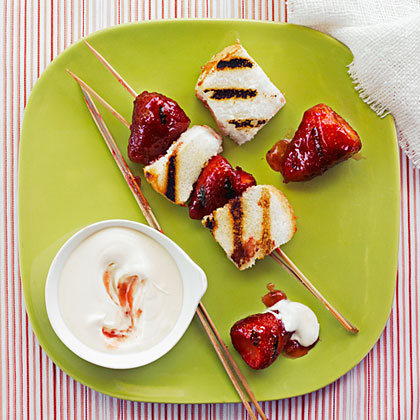 When all is said and done, it's time for dessert! What better way to celebrate the start of summer than with a fresh twist on a classic campfire dessert? These Grilled Strawberry Shortcake Kebabs will have everyone smiling as they gobble up the fruity goodness of fresh strawberries mixed with light as air pieces of fluffy white shortcake.
Ingredients:
1/2 cup whipping cream
1/2 cup crème fraîche
2 tablespoons packed dark brown sugar
Zest of 1/2 lemon
1 angel food cake (1 lb.)
32 strawberries (2 lbs.), preferably about 1 1/2 in. wide, hulled to create a V-shaped hollow
6 tablespoons strawberry jam
Directions:
Beat whipping cream, crème fraîche, sugar, and zest in a bowl with a mixer until thick enough to hold a soft shape. Chill.
Cut cake into parallel slices 1 1/2 in. wide, then cut slices into 32 chunks, each 1 1/2 in. Save remaining cake for other uses.
Heat grill to medium-low (300° to 350°). Put strawberries in a large bowl. Microwave jam in a glass measuring cup until bubbling, about 30 seconds. Using a pastry brush, dab hulled insides of berries with jam, then brush remaining jam over berries and turn gently to coat all over.
Hold a pair of bamboo skewers so they're slightly separated and thread a chunk of cake onto them, then a berry crosswise, then another chunk of cake and another berry. Repeat to make 15 more kebabs.
Grill kebabs, covered, turning once with tongs, until grill marks appear, 3 to 4 minutes; cake should release from grate when it's toasted, but if not, nudge with tip of tongs. Serve with cream mixture.
For best results, make the kabobs ahead of time, cover and chill for up to 2 hours before grilling.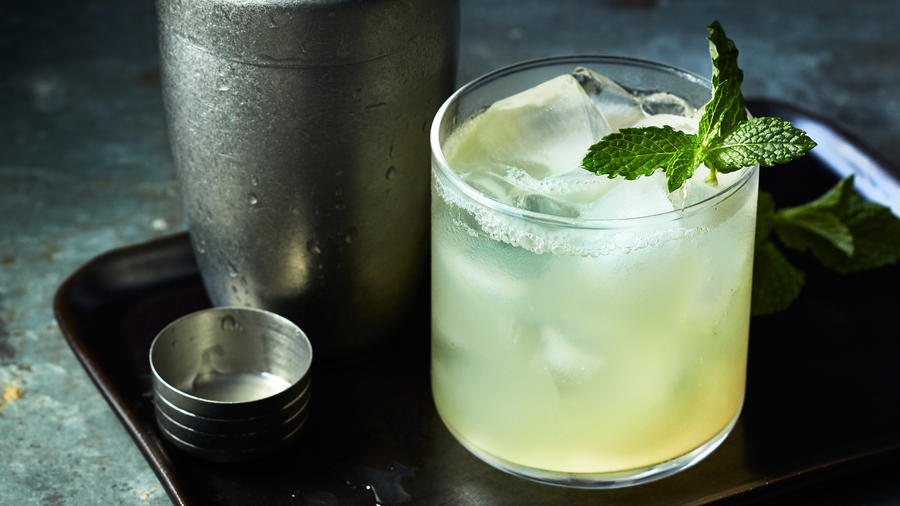 For a non-alcoholic beverage everyone can enjoy, try a Pear Tree mocktail that's as sure to please as it is easy to make!
Ingredients:
1 cup ice
1/3 cup pear juice
2 tablespoons Lemon-Lime Juice
2 tablespoons Simple Syrup
4 fresh mint leaves, plus 1 mint sprig for garnish
Directions:
Put all ingredients except mint sprig in a cocktail shaker and shake until well blended, about 10 seconds. Pour drink with ice into a tumbler or a snifter. Garnish with mint sprig.
Simple Syrup: Equal parts sugar and water, heated until the sugar dissolves. (Your yield will be the same as the amount of water you use.)
Lemon-Lime Juice: Equal parts freshly squeezed lemon and lime juice, for adding acidity in a flash.
Fresh Lemons, Limes, and Oranges: To make juice, wedges for squeezing or moistening the rim of a glass, or twists of zest for extra citrus aroma.
Superfine Sugar: Dissolves easily and makes a nice garnish on the rim of a glass.
Fresh Herbs: Basil, mint, and tarragon add complexity, texture, and visual appeal.
Purchased Ice: For a big party, it's hard to make enough ice at home. Besides cooling, ice helps blend flavors in the shaker.
Your guests will be full and happy with all this great food to choose from and a refreshing drink to accompany their meal. Enjoy spending time with friends and family this Memorial Day as you celebrate the beginning of summer.