The American Heart Association has declared February as American Heart Month. Heart disease is responsible for one-quarter of the deaths among men and women in the United States, and as such is the leading cause of death in the country. The good news is that heart disease can often be prevented. With healthy food and lifestyle choices, people can manage most health conditions, including heart disease. By making February American Heart Health Month, the American Heart Association hopes to raise awareness of heart disease and the many ways to help prevent it and promote heart-healthy living.
Some simple ideas for promoting a healthy heart include:
Seasoning foods with spices instead of using salt to add flavor
Add some form of exercise to daily living, even if it's a 15 to 30-minute walk
Set a regular sleep schedule and stick to it, getting at least 7 to 8 hours per night
Choose the stairs over riding the elevator whenever possible
Park farther away from store entrances to add more steps to your day
There is some good news on the heart health front; thanks to awareness and education, the heart disease rate in America has actually decreased by 75 percent since its peak in the 1960s. Healthy food choices that include a variety of colorful fruits and vegetables, healthy lean meat, oily fish like salmon, whole grains, nuts, and low-fat dairy options help contribute to heart health as long as portions are kept reasonable. Cutting down on (or eliminating completely) high-calorie foods and drinks like baked goods, sodas, and those "special" coffee concoctions and opting for healthier choices help keep us healthy as well.
Exercising portion control and eating healthy can kick start weight loss and start you on the road to a healthier heart even without increasing your exercise. Losing even a small amount of body weight, as little as five percent, may decrease your blood sugar, blood pressure and cholesterol, according to Dr. Irina Benenson, an assistant professor at the Rutgers School of Nursing in Newark and New Brunswick. Even with making healthy food and lifestyle changes, its important to get regular checkups to monitor your blood pressure, weight, blood sugar and cholesterol levels, and ensure they remain in the safe zone. Many causes of heart disease do not produce symptoms, so you may be unaware of them. Your doctor will let you know if your blood work shows any danger signs or risk factors, and what you can do to alleviate them and lower your risk. There are drugs available, but they are a third line of defense after diet and exercise.
Young people are getting less exercise than any previous generation, due in large part to video games and a lack of required physical education classes in our public schools. Even many primary schools are eliminating recess, often the only time children have an opportunity to get some much needed physical exercise. With the lack of activity available during the school day, its important to teach our kids early on how to make healthy food choices so that they can establish good habits while they are young, rather than try to break bad habits as they get older.
Here are a few heart-healthy recipes for you to enjoy this month.
From Find Your Balance comes a recipe for grain-free Red Velvet Pancakes with Chocolate Sauce that will start your day off right.
Red Velvet Pancakes
Ingredients:
For pancakes:
1 cup creamy natural peanut butter (or any nut butter)
6 eggs
2 average-sized bananas, chopped
½ cup pre-cooked, frozen sliced beets (defrosted)
For sauce:
½ cup pure maple syrup
½ cup cacao or cocoa powder
½ cup coconut oil
1 tsp. vanilla
For topping:
Fresh strawberries and bananas, chopped
Directions:
To make pancakes, combine nut butter, eggs, bananas and beets in a food processor until smooth.
Using ⅓ cup of batter at a time, pour pancakes onto a hot griddle. Watch for bubbles to begin to form, then carefully flip and cook for an additional 1-2 minutes.
For sauce, blend all ingredients together and warm on the stove over low heat.
To serve, stack pancakes, top with chocolate sauce and fresh fruit.
From Eating Well comes a recipe for a Thai Chicken dinner from Diabetic Living Magazine that will have everyone asking for more.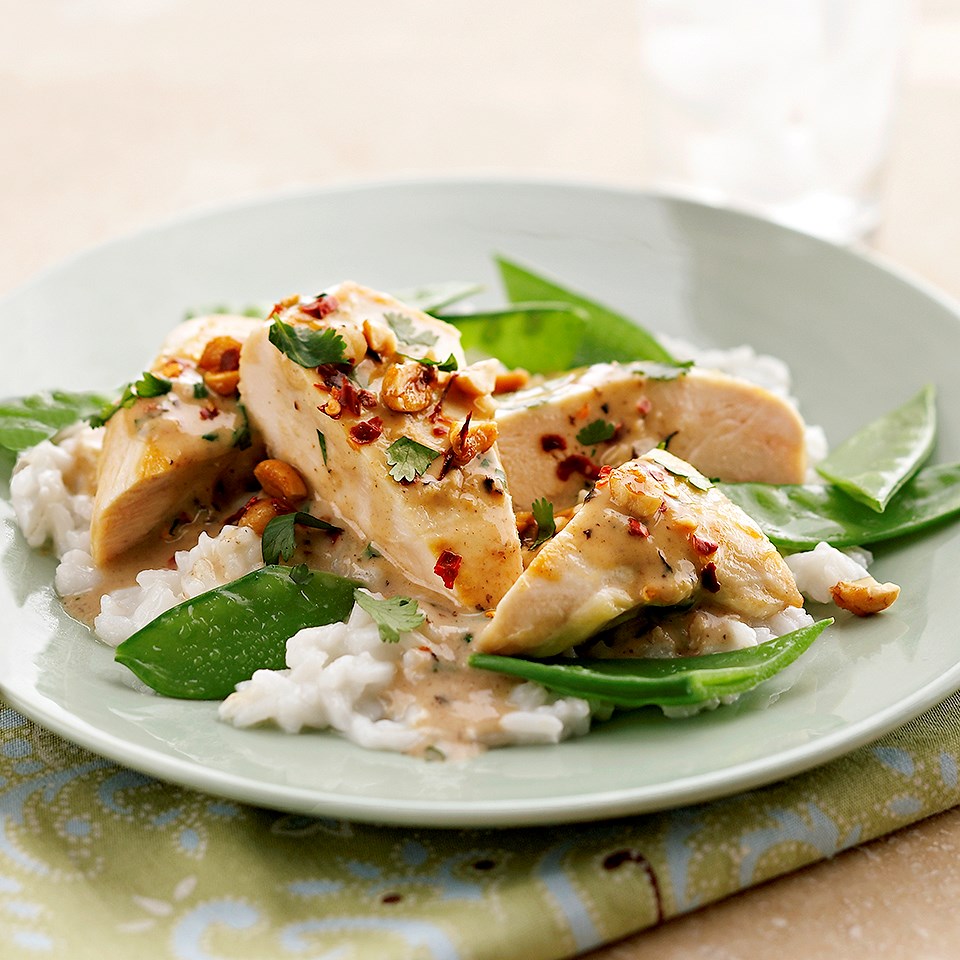 Thai Chicken
Ingredients:
2 small skinless, boneless chicken breast halves (8 to 10 ounces total)
⅛ teaspoon salt
1 teaspoon canola oil
1 teaspoon grated fresh ginger
1 clove garlic, minced
¼ cup unsweetened light coconut milk
2 tablespoons chopped fresh cilantro, divided1 tablespoon peanut butter
¼ teaspoon ground pepper
¼ teaspoon crushed red pepper
1 recipe Coconut Rice with Snow Peas
1 tablespoon chopped dry-roasted peanuts (optional)
Directions:
Sprinkle chicken with the salt. Heat oil over medium-high heat in a medium skillet. Add the chicken; reduce heat to medium. Cook for 8 to 12 minutes or until the chicken is no longer pink (170°F), turning once halfway through cooking time. Remove the chicken from the skillet; cover to keep warm.
For sauce, add ginger and garlic to the skillet; cook about 30 seconds or until fragrant. Whisk together coconut milk, 1 tablespoon cilantro, the peanut butter, ground pepper, and crushed red pepper in a small bowl. Add mixture to the skillet. Cook and stir over medium-high heat until bubbly.
Slice the chicken. Place the chicken atop Coconut Rice with Snow Peas (if desired) and top the with the sauce. Sprinkle with the remaining 1 tablespoon cilantro and, if desired, peanuts. 
And for dessert, this delicious recipe from Sunset Magazine for a creamy individual dessert (hello, portion control!) you'll enjoy without guilt. Less than 200 calories per serving, and you get both cake and pudding!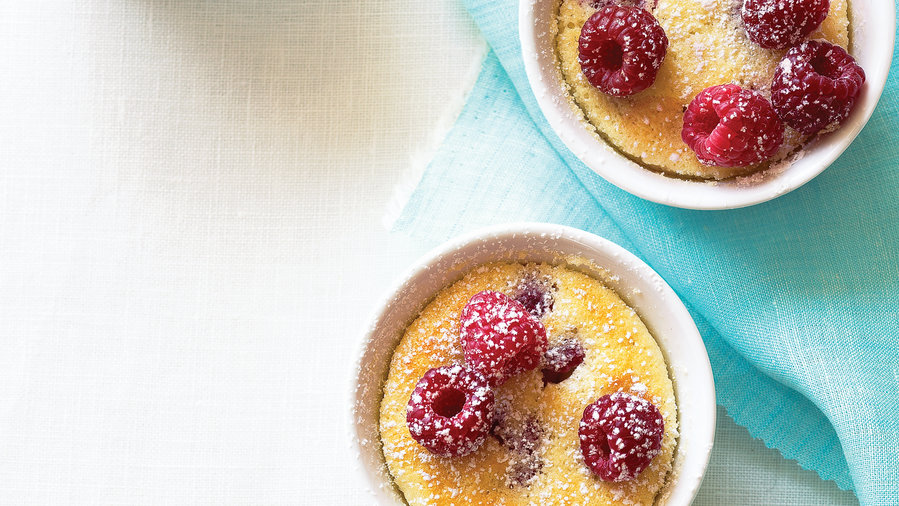 Raspberry Lemon Pudding Cakes
Ingredients:
2 large eggs, separated
1/2 cup granulated sugar
3 tablespoons flour
2 tablespoons melted butter
Finely shredded zest of 1 lemon
3 tablespoons fresh lemon juice
1 cup low-fat (1%) milk
1/8 teaspoon cream of tartar
2 2/3 cups (12 oz.) raspberries, divided
Powdered sugar
Directions:
Preheat oven to 350°. Set 6 ramekins (2/3 cup size) in a 9- by 13-in. baking pan.
In a medium bowl, whisk together egg yolks and granulated sugar until thick and creamy. Whisk in flour, butter, lemon zest and juice, and milk until blended.
In a deep bowl with a mixer on high speed, beat egg whites and cream of tartar until whites hold stiff, moist peaks when beater is lifted. Stir one-quarter of whites into yolk mixture until blended, then gently fold in remaining whites. Gently fold in half of raspberries.
Spoon batter into ramekins. Pour enough hot tap water into baking pan to come 1 in. up sides of ramekins.
Bake until cake layers are set and tops are golden, 30 to 35 minutes. Remove ramekins from water; let cool at least 30 minutes. Serve with more berries on top and a dusting of powdered sugar.
Make ahead: Chill airtight up to 1 day; pudding layer will become more distinct.
Although we know you'll be tempted to go back for seconds on all these delectable dishes, remember that portion control is a pivotal key to weight control. Eating slowly and savoring every bite will help you eat less and sitting down to make every meal an event will also help you manage your appetite. Add a walk in after lunch or dinner (or both!) and you've made a step in the right direction (pun intended) toward keeping your heart healthy.