March 17th we will celebrate St. Patrick's Day in honor of the patron saint of Ireland who is credited for bringing Christianity to the country. Irish legend tells of how Saint Patrick (who was British, not Irish) used the shamrock as a metaphor for the Holy Trinity when first introducing Christianity to Ireland in the year 432. According to his writings, St. Patrick was kidnapped from his home in Britain where he was born to Roman parents in the late fourth century and taken to Ireland as a slave at the age of 16, where he remained for six years caring for animals until he escaped. Returning to Ireland years later as a missionary, he remained on the island serving as a bishop during the second half of the 5th century, until his death on March 17th.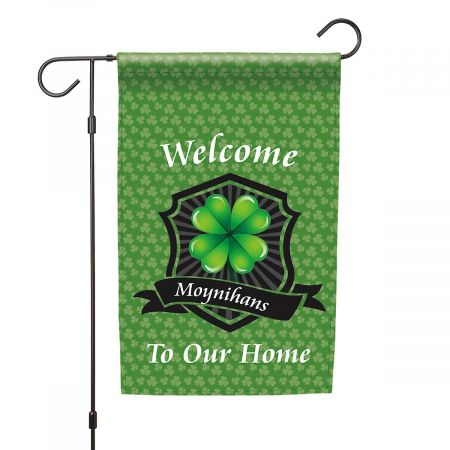 Originally marked by a religious feast day in the 17th century, modern-day celebrations of St. Patrick's Day have evolved into a celebration of everything Irish with parades, dancing, good luck charms, Irish music, pots of gold, rainbows, leprechauns, cultural foods such as corned beef and cabbage, and of course, a lot of green. Did you know that St. Patrick wasn't as fond of green as he was of "St. Patrick's blue?" The color green became associated with this holiday in the late 18th century after it was linked to the Irish independence movement. In 1737, Irish immigrants in America began observing St. Patrick's Day in Boston. The St. Patrick's Day parade in New York City still doesn't allow floats, cars, or other modern-day trappings; it's a foot parade enjoyed by about 250,000 people every year. Chicago has been celebrating by dumping green dye into the Chicago River since 1962 to turn the waters a vibrant Kelly green on St. Patrick's Day.
St. Patrick's Day is an official national holiday in Ireland, but Irish culture has had a significant impact on America for centuries now, with millions of Americans able to trace their family tree all the way back to the Emerald Isle, which takes its nickname from the intense green vegetation that covers most of the country. Known for its abundant grasslands (and shamrocks!), the ocean current known as the North Atlantic Drift contributes to the mild climate by extending the warm waters of the Gulf Stream northward. According to superstition, the four-leaf clover, which is a rare variation of the three-leaf variety, is thought to bring good luck, especially if found by accident. The odds of finding a four leaf clover are said to be about 1 in 10,000.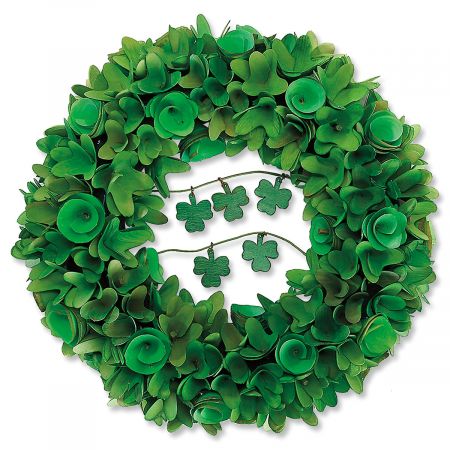 Are you looking for a way to celebrate your Irish heritage this year? Start by decorating your front door with a gloriously green shamrock wreath made of beautifully curled and shaped wood strips. Not only will you be celebrating St. Patrick's Day, but you'll add a vibrant touch of green that heralds the coming of spring to your doorstep. Wish your guests a warm welcome and the luck of the Irish with your very own personalized green Irish flag featuring a big, bright shamrock that is perfect for St Patrick's day or whenever you feel like celebrating the Emerald Isle. For that special meal of traditional corned beef and cabbage, dress up your dinner table with a beautifully detailed, elegant cutwork table runner decorated with Irish shamrocks that combines the look of a delicate family heirloom with the easy care of machine washable fabric.
Speaking of your St. Patrick's Day dinner table, here are a few tips and recipes from Sunset Magazine to help you prepare for this special celebration.
From Patrick McEvoy of Palo Alto, California, comes a recipe for Patrick's Corned Beef and Cabbage. This staple of every St. Patrick's Day celebration will have your guests begging you for the recipe, and any leftovers! You'll need a 12- to 14-qt. pot for this recipe to do it right.
Ingredients: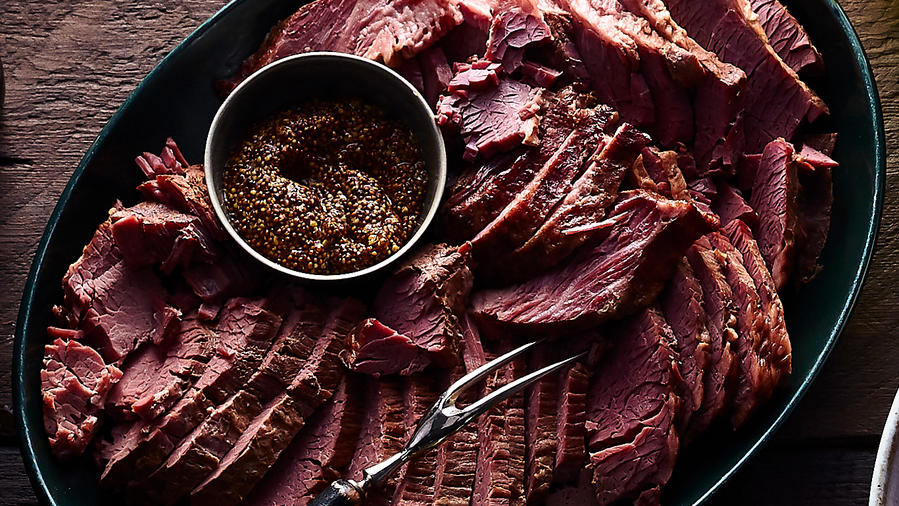 3 cups coarsely chopped onions
4 large carrots (1 3⁄4 lbs.), peeled, quartered lengthwise, and cut into 2-in. pieces
2 tablespoons extra-virgin olive oil
2 pkg. (6 to 7 lbs. total) corned beef brisket,* with spice packets included
1 cup malt vinegar (sometimes sold as "fish and chips vinegar")
1 can (about 15 oz.) Guinness stout
1 1⁄2 tablespoons each mustard seeds and coriander seeds
2 teaspoons each peppercorns, dill seeds, and whole allspice
2 bay leaves
2 1/2 pounds small (2-in.) red thin-skinned potatoes
3 pounds green cabbage (from 1 to 2 heads)
Chopped flat-leaf parsley (optional)
Coarse-grain mustard and Dijon mustard, for serving
Directions:
In a 12- to 14-qt. pot over medium-high heat, cook onions and carrots with olive oil, stirring occasionally until onions are golden, about 15 to 20 minutes.
Drain any liquid from corned beef. Add beef and seasonings from packets to pot along with vinegar, stout, mustard seeds, coriander seeds, peppercorns, dill seeds, allspice, and bay leaves; then add water to barely cover beef. Cover pot and bring to a boil over high heat. Reduce heat and simmer, occasionally turning beef over and adding water so meat is mostly covered (after a while it will start floating). Cook until meat is tender when pierced, about 4 to 5 hours.
Meanwhile, scrub potatoes, cut in half, and put in a bowl of water as they're prepped to keep from browning (set aside for up to 2 hours). Cut cabbage in half through core, then through core into 12 wedges (the core helps hold pieces together).
Drain potatoes and add to cooking liquid in the pot, then set cabbage in pot (some wedges will rest on top of meat). Cover and return to simmering over high heat; then reduce heat and simmer until cabbage is tender when pierced, about 15 to 20 minutes.
With 2 slotted spoons scoop cabbage, potatoes, and carrots into a large, warmed serving bowl and cover with foil. Using tongs and a slotted spoon, transfer beef to a cutting board. Remove and discard fat, slice meat across the grain, and set on a warm platter.
If you're not quite ready to serve, tightly cover meat with foil and keep meat and vegetables warm in a 150° oven for up to 45 minutes; or drape foil-covered dishes with heavy towels and keep them warm.
Scatter parsley over corned beef if you like. Serve corned beef and vegetables with mustards.
Colcannon makes the perfect side dish for your traditional corned beef and cabbage main dish on St. Patrick's Day. Consisting of mashed potatoes, butter steamed cabbage, a little milk and minimal spices, this Irish concoction is sure to be a hit.
Ingredients: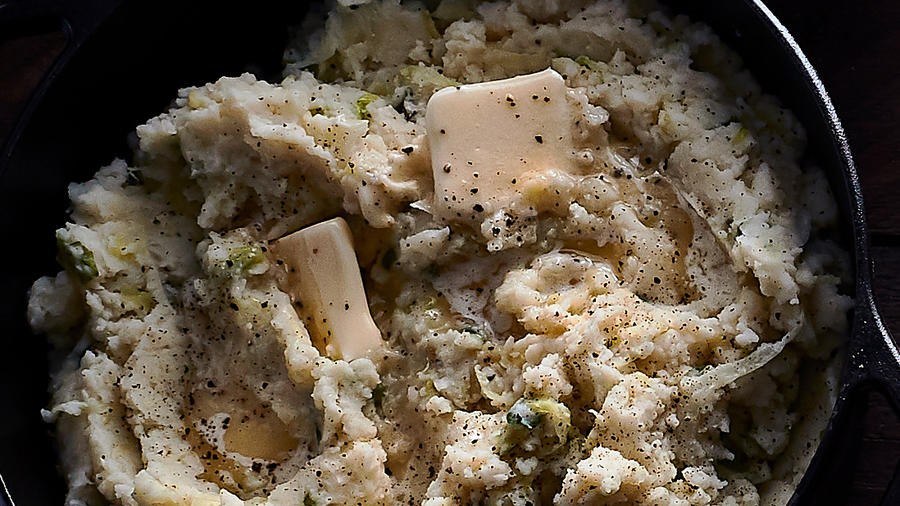 4 pounds russet potatoes
1 pound cabbage, cut into fine shreds
1/2 cup salted butter, plus more for serving (optional)
1 1/4 cups whole milk
1 cup green onions sliced on a diagonal
About 1 1/2 tsp. kosher salt
About 1 tsp. freshly ground pepper
Directions:
Peel potatoes, rinsing and setting in a bowl or bowls of water as you go (potatoes can stay in water up to 2 hours). When you're ready to cook, drain potatoes, cut into 2- to 3-in. chunks, and put in a 5- to 6-qt. pot with water to cover.
Bring pot to a boil over high heat, then reduce heat and simmer until potatoes are tender when pierced, about 15 minutes. Drain.
In bowl of a stand mixer, beat potatoes until smooth; or mash by hand in a large bowl. As mashed, transfer to a large serving bowl and cover with foil.
Put cabbage and 1/2 cup butter in pot used for potatoes (no need to wash). Cover and cook over medium-high heat, stirring often, until cabbage is well wilted, 5 to 8 minutes. Meanwhile, in a medium saucepan, heat milk and green onions until simmering, stirring often, 5 to 8 minutes.
Stir cabbage mixture and three-quarters of milk mixture into potatoes until blended. Then stir in more milk mixture if you'd like a looser texture. Season to taste with salt and pepper. Spoon into a serving bowl and top with a couple of big pats of butter and more pepper if you like.
Make ahead: Let cool completely, then chill airtight up to 1 day. Microwave in batches, loosely covered, until hot, stirring occasionally. This dish reheats well the next day, maintaining its flavor and consistency.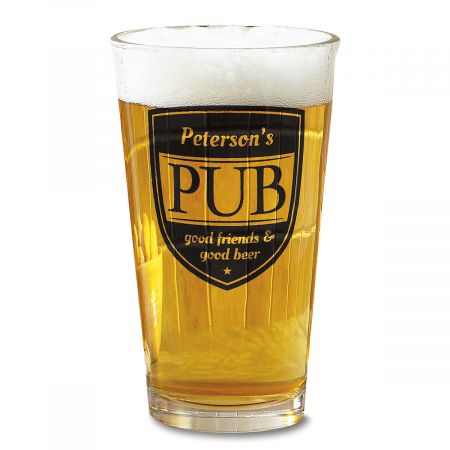 A few drops of green food coloring is a simple way to serve up some green beer to your guests in personalized pub pint glasses. If you want to add some green to your food to make it more fun, check out these 17 green food ideas from Delish. No matter what you serve, remember to drink responsibly, especially if you plan to be out and about, and enjoy a safe and happy St. Patrick's Day.