Mothers are special every day of the year, and the bond you share with your mother is one of the strongest you'll form in a lifetime. When you want to do something special for mom on Mother's Day, you might consider whipping up something special in the kitchen. This Mother's Day we have five fantastic recipe ideas that will let mom sleep in and wake up to a delicious breakfast in bed or homemade brunch on her special day.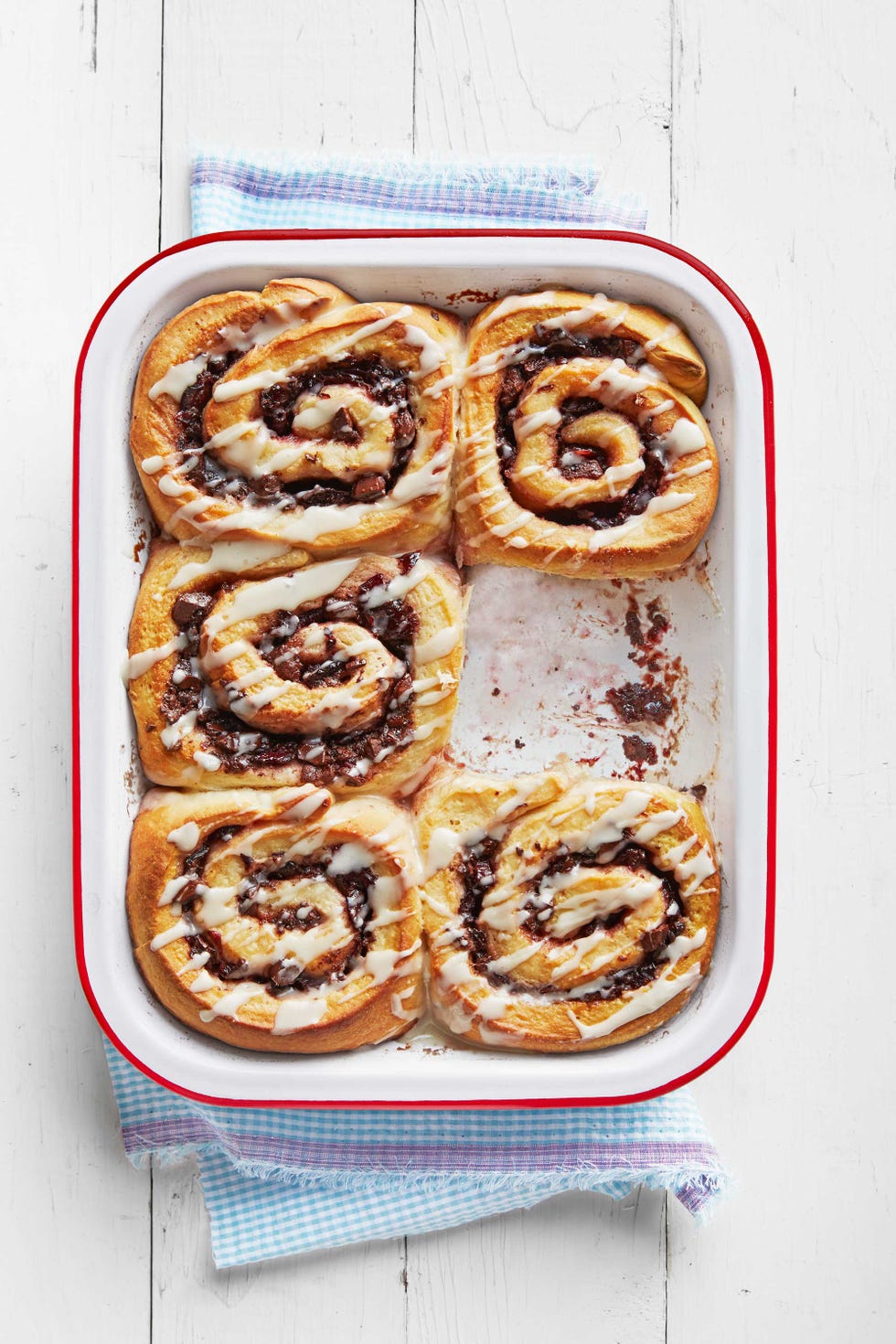 Chocolate-Cherry Cinnamon Rolls Start off the day with these decadently scrumptious treats still warm from the oven. Serve with a steaming mug of coffee or cup of tea that shows mom how much you love her and just how special she is. Add some fresh fruit and a glass of juice, and you have a light breakfast or brunch mom is sure to enjoy. From our friends at Country Living.
Ingredients:
Cinnamon Rolls
3/4 cups (1 & 1/2 sticks) of unsalted butter, at room temperature, divided, plus more for the bowl and baking dishes
1/2 cup of warm whole milk (100 degrees F)
1/3 cups of granulated sugar
2 (1/4-oz.) packages active dry yeast
4 cups of all-purpose flour, spooned and leveled, divided, plus more for work surface
1 1/2 tsp. Kosher salt
3 large eggs, at room temperature
5 tbsp. cherry preserves
1/4 cup packed light brown sugar
1/4 tsp. ground cinnamon
2 cups of fresh cherries pitted and chopped
1 (4-oz.) bar bittersweet chocolate, finely chopped
Buttermilk-Vanilla Glaze
1 cup of powdered sugar
1 & 1/2 Tbsp. Buttermilk
1 tbsp. unsalted butter, room temperature
1 tsp. pure vanilla extract
Directions:
Cinnamon Rolls
Butter the inside of a bowl. Butter 2 (11-by-7-inch) baking dishes or a jelly roll pan. Stir together milk and granulated sugar. Sprinkle yeast over milk mixture and let stand until foamy, about 4 to 6 minutes (if the yeast does not foam, discard and start again).
Gradually beat 1 cup flour into milk mixture, using an electric mixer on low until combined. Beat in salt and 6 tablespoons butter until smooth. Add eggs one at a time, beating just until blended. Gradually beat in remaining 3 cups flour until combined.
Increase speed to medium and beat until dough forms a ball and begins to pull away from the sides of the bowl, about 1 minute. Continue to beat until dough is smooth and elastic, 3 to 5 minutes. Place dough in prepared bowl and turn to coat.
Cover with plastic wrap and let rise in a warm place (80°F to 85°F) until doubled in size, 45 minutes to 1 hour. Meanwhile, stir together remaining 6 tablespoons butter and cherry preserves in a bowl. Stir together brown sugar and cinnamon in a separate bowl.
Punch down dough, turn out onto lightly floured surface, and roll into a 12×16-inch rectangle. Spread butter mixture over dough leaving a 1/2-inch border all around. Sprinkle with brown sugar mixture, cherries, and chocolate, pressing lightly to help adhere.
Roll up dough starting at one long side and cut into 12 slices with a serrated knife; arrange in prepared dishes. Cover with plastic wrap and let rise in a warm place (80°F to 85°F), until puffed, 25 to 30 minutes.
Preheat oven to 350°F, uncover dough, and bake until golden brown and cooked through, 20 to 25 minutes.
Buttermilk-Vanilla Glaze
Stir together powdered sugar, buttermilk, unsalted butter, and vanilla extract until smooth. If the glaze is not pourable, add up to 1 tablespoon additional buttermilk, one teaspoon at a time.
After cinnamon rolls have cooled on a wire rack for 10 minutes, drizzle glaze over top. Serve warm.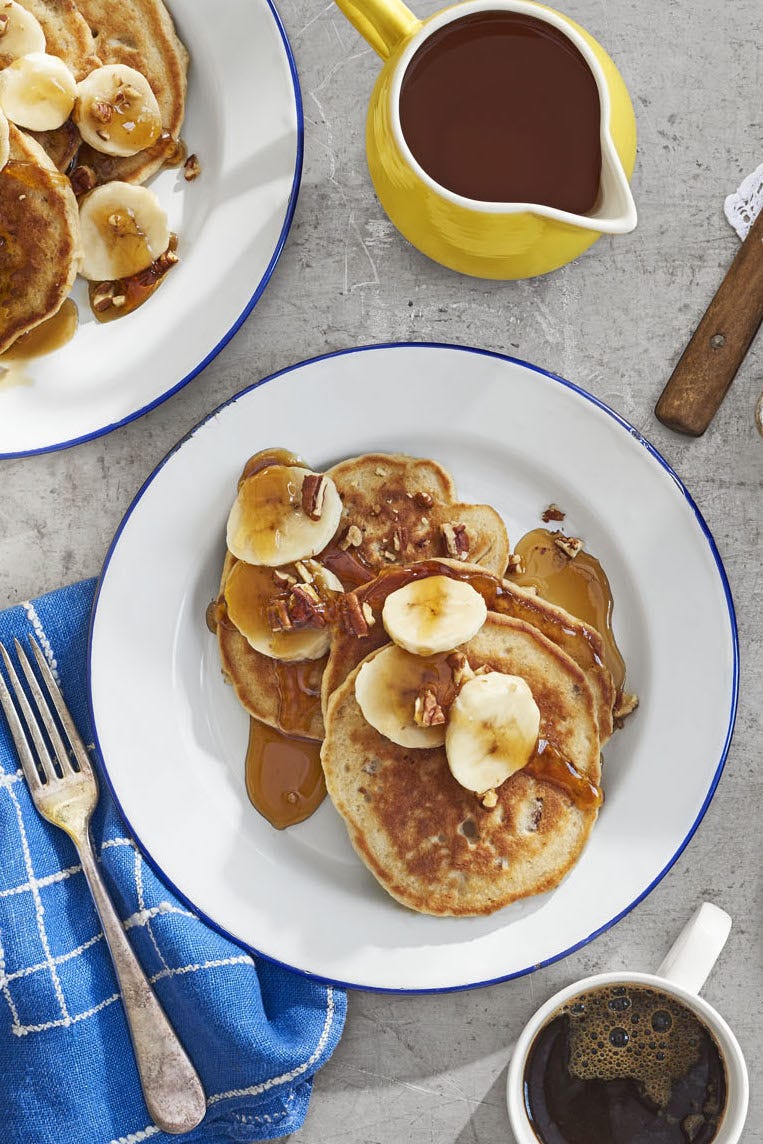 Banana Bread Flapjacks Enjoy everyone's favorite bread (banana bread, of course!) in pancake form. Wrap mom up in a blanket of love, and serve her a plate of these yummy, fruit-and-nutty flapjacks this Mother's Day. Thanks to our friends at Country Living for this delicious recipe for the perfect Mother's Day brunch.
Ingredients:
2 c. all-purpose flour spooned and leveled
1/2 c. finely chopped toasted pecans, plus more for serving
3 tbsp. packed brown sugar
1 1/2 tsp. baking powder
1 1/2 tsp. Kosher salt
1 tsp. baking soda
1 1/4 c. Buttermilk
1 c. mashed ripe banana (about 3 medium), plus slices for serving
2 large eggs
1/4 c. unsalted butter, melted, plus more for griddle
pure maple syrup, for serving
Directions:
Stir together flour, pecans, sugar, baking powder, salt, and baking soda in a bowl.
Whisk together buttermilk, banana, eggs, and butter in a separate bowl. Add flour mixture to buttermilk mixture and stir until just combined.
Heat griddle or large nonstick skillet over medium heat; butter.
Pour about 1/4 cup batter for each pancake on the griddle. Cook until tops are covered with bubbles and edges look dry, 2 to 3 minutes.
Turn and cook until plump and cooked through, 2 to 3 minutes.
Place pancakes in a single layer on a baking sheet and keep warm in a 175°F oven up to 30 minutes. Repeat with remaining batter.
Serve with maple syrup, toasted pecans, and sliced bananas.
Honey Lime Rainbow Fruit Salad Cooking Classy offers up this healthy, colorful recipe for something seasonal and fresh this Mother's Day. No cooking required for this fabulous fruity brunch time treat!
Ingredients:
1 lb fresh strawberries, diced
1 lb fresh pineapple, diced
12 oz fresh blueberries
12 oz red grapes diced
4 kiwis peeled and diced
1 (15 oz) can mandarin oranges in juice, drained well and sliced into halves
Honey Lime Dressing
1/4 cup honey
2 tsp lime zest (zest of 2 medium limes)
1 Tbsp fresh lime juice
Directions:
Add all fruit to a large mixing bowl. In a small mixing bowl, whisk together the honey, lime zest, and lime juice. Pour over fruit just before serving and toss to evenly coat (as it sits for a few minutes the juices will gather at the bottom, so toss again before plating).
Frittaffles. For something unique and different this year, try making mom a batch of Frittaffles. What's a Frittaffle? A winning combination of frittatas and waffles combined, of course! This fun recipe comes courtesy of Real Food from Dad, and we think it stands a good chance of becoming mom's new favorite Mother's Day brunch dish!
Ingredients:
1 tablespoon canola oil
1 large red bell pepper (7oz), diced
2 cups roasted potatoes (homemade or store-bought), cubed
2 cups arugula
8 pieces bacon, broken into 1-2 inch pieces
salt and pepper to taste
8 large eggs whisked and combined
1/2 cup parmesan or romano cheese
1 cup mozzarella (or any cheese you prefer)
Directions:
Add canola oil into a 9 in. non-stick, oven proof pan and heat over medium-high heat. Stir in red peppers and cook until soft. Add in potatoes and stir until warmed through. Add-in arugula and bacon and stir to combine with the other ingredients.
In a bowl combine whisk together salt, pepper, parmesan romano, and eggs. Pour mixture into pan and evenly distribute it throughout. Stir in 3/4 cups of mozzarella and sprinkle the remaining 1/4 cup on top. Cook over medium-high heat for another 1-2 minutes or just until a slight crust forms around the edge.
Transfer pan to oven and bake at 375 degrees F for about 8- 10 minutes or until set. Remove from oven and slide out of pan to cool on a wire rack. Transfer to refrigerator and let chill for at least two hours. Remove from refrigerator and using a round 2.5-inch ring and stamp out rounds
Heat waffle iron and cover with canola oil. Place a round in the center and heat until warmed through.
**NOTES** (1) Make sure you use a high-quality non-stick pan that is also oven proof. If your non-stick pan is not so "non-stick" lightly cover pan with a non-stick spray like PAM, making sure to cover the side walls. (2) Of course, you don't have to waffle this. It's delicious and great as a stand-alone frittata.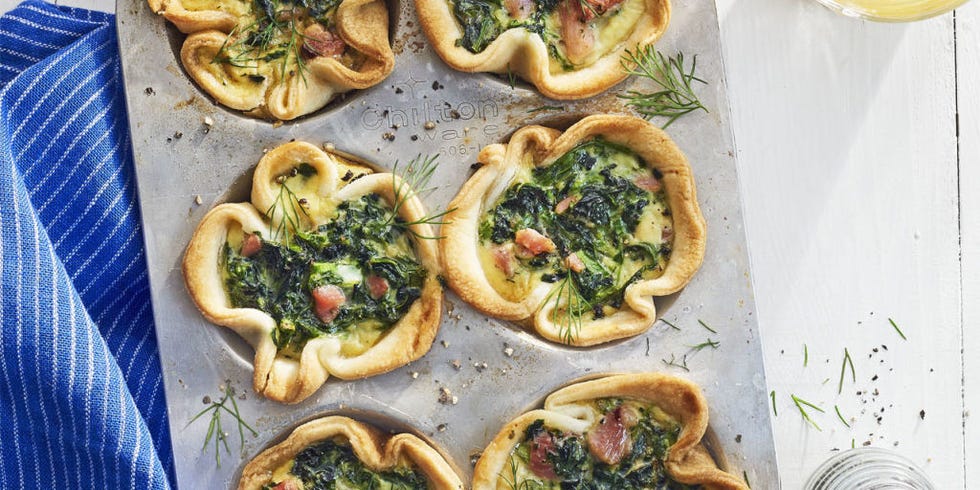 Grab and Go Spinach and Ham Egg Bakes For our fifth Mother's Day Brunch recipe idea, we return to Country Living for this warm, savory, satisfying treat. If mom loves her meat, dairy, and veggies, she'll get a little bit of everything in these cute, easy to make egg bakes.
Ingredients:
1 (14.1 oz.) package refrigerated rolled pie crust
4 large eggs
3/4 c. half-and-half
1 (10-oz.) package frozen chopped spinach, thawed and squeezed dry
1/3 c. finely chopped smoked ham (or substitute bacon if mom loves that more)
2 scallions chopped
1 tbsp. chopped fresh dill
2 tsp. Dijon mustard
Kosher salt and freshly ground black pepper
Directions:
Preheat oven to 375°F with the rack in the lowest position. Unroll pie crust and cut into 12 (4-inch) rounds. Fit rounds into a lightly greased 12-cup muffin tin, pressing up and slightly over sides of each cup. Chill 10 minutes.
Meanwhile, whisk together eggs, half-and-half, spinach, ham, scallions, dill, mustard, 1/2 teaspoon salt, and 1/4 teaspoon pepper. Spoon into crusts, dividing evenly. Bake until puffed and set, 22 to 25 minutes.
Serve warm.