Ah, chili! One of the tastiest, most requested fall and winter dishes for many families. As days and nights turn colder, there's nothing quite like a hearty bowl of delicious, spicy chili to warm you up from the inside out. We found some pretty delicious recipes for this fall favorite we'd like to share, so read on for some chili recipes for chilly weather.
First up, if you've ever wanted a meal starter that's both delicious and unusual, have we got the appetizer for you! These absolutely irresistible Smoky Beef and Bacon Chili Nachos from Sunset Magazine are out of this world, combining a favorite cold weather food, chili, and a favorite year-round appetizer, nachos. This dish is sure to get you invited back to all the fall parties this year!
Ingredients:
2 slices thick-cut bacon, finely chopped
1 large onion, finely chopped
1 large garlic clove, minced
1 1/2 pounds lean ground beef
1 tablespoon plus 1 1/2 tsp. chili powder
1 1/2 teaspoons ground cumin
1 1/2 teaspoons sweet smoked Spanish paprika
1/2 teaspoon to 1 1/2 tsp. cayenne pepper
About 1 tsp. salt
1 can (14.5 oz.) crushed fire-roasted tomatoes or regular crushed tomatoes
1 can (8 oz.) tomato sauce
1 cup flavorful, medium-bodied beer, such as Anchor Steam
1 teaspoon Worcestershire
1 can (14.5 oz.) pinto beans, drained
Sour cream, sliced green onions, and/or coarsely shredded cheddar cheese for topping
Instructions:
In a large, heavy-bottomed pot over medium-high heat, cook bacon, stirring until it just begins to brown, about 4 minutes. Add onion, lower heat to medium, cover, and cook, stirring occasionally, until translucent, 4 to 7 minutes. Uncover pan, stir in garlic, and cook 1 minute.
Increase heat to medium-high and add ground beef; break it up with a wooden spoon and stir gently until it loses its raw color, 7 minutes. Stir in spices and 1 tsp. salt and cook 1 minute. Add tomatoes, tomato sauce, beer, and Worcestershire and bring to a boil. Reduce heat to medium-low, cover partially, and cook 30 minutes.
Add beans and cook 10 minutes, uncovered. Season to taste with salt. Serve warm, with toppings on the side. Make this the day before and let the flavors fully infuse for extra flavor.
Once you have your pot of chili warmed up (or freshly made, whatever your preference), it's time to bring this ultimate recipe to life. Line a rimmed baking sheet with parchment paper, and then scatter your favorite tortilla chips on top. Liberally sprinkle grated sharp cheddar cheese on top and bake until cheese is somewhat melted. Remove from the oven and transfer to an oven-safe platter (the purpose of this step is to get the nachos on a presentable party platter instead of a baking sheet).
Now top the cheesy chips with the chili. Top with more grated cheddar cheese and bake at a low heat to melt the cheese on top. Once you remove the platter, use a squirt bottle to top the nachos with a sour cream and lime juice mixture. Sprinkle on smoked paprika (for one last smoky touch) and chopped green onions. You can also apply your favorite hot sauce or leave that up to guests, so they can calibrate the spiciness to their liking.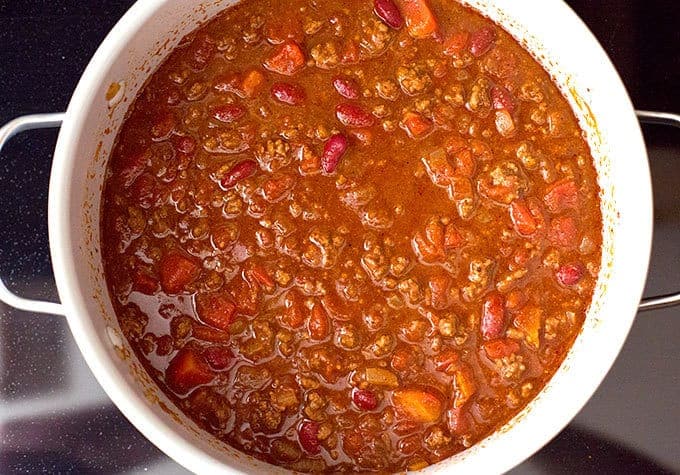 From our friends at The Wholesome Dish comes a traditional recipe for what they're calling The Best Classic Chili. Just like mom used to make!
Ingredients:
1 tablespoon olive oil
1 medium yellow onion -diced
1 pound 90% lean ground beef
2 1/2 tablespoons chili powder
2 tablespoons ground cumin
2 tablespoons granulated sugar
2 tablespoons tomato paste
1 tablespoon garlic powder
1 1/2 teaspoons salt
1/2 teaspoon ground black pepper
1/4 teaspoon ground cayenne pepper (optional)
1 1/2 cups beef broth
1 (15 oz.) can petite diced tomatoes
1 (16 oz.) can red kidney beans, drained and rinsed
1 (8 oz.) can tomato sauce
Instructions
Add the olive oil to a large soup pot and place it over medium-high heat for two minutes. Add the onion. Cook for 5 minutes, stirring occasionally.
Add the ground beef to the pot. Break it apart with a wooden spoon. Cook for 6-7 minutes, until the beef is browned, stirring occasionally.
Add the chili powder, cumin, sugar, tomato paste, garlic powder, salt, pepper, and optional cayenne. Stir until well combined.
Add the broth, diced tomatoes (with their juice), drained beans, and tomato sauce. Stir well.
Bring the liquid to a low boil. Then, reduce the heat (low to medium-low) to gently simmer the chili, uncovered, for 20-25 minutes, stirring occasionally.
Remove the pot from the heat. Let the chili rest for 5-10 minutes before serving.
Next up, from Genius Kitchen, author "Dee Licious" claims this is "The best bowl of chili I've ever had". You just might agree once you try this recipe!
Ingredients:
1 1⁄2 lbs ground beef
1 large chopped onion (yellow or white)
4 minced garlic cloves
2 tablespoons chili powder
1⁄2 teaspoon salt
2 teaspoons ground cumin
1 teaspoon dried oregano
1⁄4 teaspoon cayenne
2 (15 1/2 ounce) cans kidney beans
1 (28 ounce) can diced tomatoes
1 (6 ounce) can tomato paste
1⁄2 teaspoon Tabasco sauce
1 (4 ounce) can chopped jalapenos
1 teaspoon sugar substitute (or sugar)
1 cup dark beer
1 cup shredded cheese (cheddar or Mexican mix)
1⁄2 cup sour cream
Instructions:
Cook ground beef in large frying pan.
While cooking, stir and chop beef with spatula to crumble.
Continue cooking for about 7 minutes or until the meat is brown and cooked through.
Add the onion, garlic, chili powder, salt, cumin, oregano, cayenne, and tabasco.
Cook while stirring, until onion is translucent, about 5 minutes.
Transfer to large pot. Add the Kidney beans (juice and all), canned tomatoes (juice and all), the tomato paste, jalapenos (yep, juice and all), splenda (or sugar), and beer.
Stir well and bring to a boil.
Lower the heat to medium-low and simmer, uncovered, for 30 minutes, stirring occasionally.
Top individual bowls of chili with a dollop of sour cream and a generous sprinkle of cheese.
our final selection, because the Instant Pot seems to be the kitchen appliance of the year, we chose the Award Winning Instant Pot Chili Recipe from Oh, Sweet Basil.
Ingredients:
1 1/2 Pounds Ground Beef
6 Strips of Bacon, chopped
1 Can (15 ounces) Kidney Beans, drained
1 Can (15 ounces) Pinto beans, drained
1 Can (15 ounces) Black beans, drained
1 Can (15 ounces) Fire Roasted diced tomatoes with juice
1 Can (6 ounce) Tomato paste
1 large Red onion, chopped
1 Red bell pepper, seeded and chopped
1 Jalapeño, seeded and minced *optional
2 Cups Beef stock
1 Tablespoon Dried oregano
2 Teaspoons ground cumin
2 Teaspoons Kosher salt
1 Teaspoon ground black pepper
1 Teaspoon Smoked Paprika
2 Tablespoons chili powder
1 Tablespoon Worcestershire sauce
1 Tablespoon Minced garlic
For garnish:

Sour Cream
Cilantro
Cheese, shredded
Instructions:
Turn your instant pot to sauté and add the bacon, cooking until crisp, stirring often to cook evenly.
Remove the bacon to a paper towel lined plate
Add the onions and peppers and cook until tender
Add the meat and cook until browned
Drain off any excess grease (We just tilt the pot and use a large spoon)
Add all of the remaining ingredients and 3/4 of the bacon and stir to combine
Turn the instant pot to chili setting and cook for 18-20 minutes*. Allow pressure to release for 10-15 minutes or quick release with the vent.
Serve with limes, sour cream, cheese, and a little bacon!
For the stove: Cook everything in the pot just like you do for the instant pot and then allow to simmer on low heat for 3 hours.
For the slow cooker: Cook the bacon and set aside on a plate. Cook the onion and peppers and set aside on another plate. Drain any excess grease and add the meat, cooking until browned. Add everything into the pot, leaving out a little bacon for garnish and cook on low for 5-6 hours or on high for 3 hours.
*Most batches will be done after 18 minutes, however, we've had a few times when the flavor just wasn't there yet, so feel free to pressure cook a little longer for more flavor or if your beans are not as tender as you'd like.
From appetizers to main course deliciousness, these recipes are sure to open up new worlds of flavor and make chili fans out of the pickiest eaters. So break out the spices and have fun trying one or more of these fantastic chili recipes as