In the United States, National Waffle Day is celebrated August 24, marking the date of a U.S. patent on a waffle iron in 1869 by a man named Cornelius Swarthout of Troy, N.Y. who patented his invention of the stove-top waffle iron. In Sweden, the country where this special day originated, Waffle Day is celebrated on March 25th, but we think no matter when you celebrate the waffle it's a good day! According to a recent survey 8 in 10 Americans love waffles, which makes the waffle a great unifier.
The survey, which was conducted by researchers at National Today, discovered some interesting tidbits on who loves waffles. The survey found that waffles were more popular with women than with men (80% vs 69%) and that 89% of Americans over the age of 65 love waffles more than any other age group. Apparently, women and seniors are the smartest! Waffles are clearly loved by more than just Americans, however. Children and adults of all ages all over the world indulge in a delicious plate of warm waffles on a regular basis.
Within the transitional period from cane to beet sugar, Florian Dacher formalized a recipe for the Brussels Waffle, the predecessor to American "Belgian" waffles, recording the recipe in 1842/43. Stroopwafels (Dutch syrup wafels), too, rose to prominence in the Netherlands by the middle of the century. [Wikipedia] Belgian waffles were made famous thanks in part to a Belgian named Walter Cleyman, who brought this breakfast classic to the Century 21 Exposition in Seattle in 1962. Cleyman served his delicious waffles to the crowd topped with whipped cream and strawberries. They made an encore appearance during the 1964 New York World's Fair at Flushing Meadows Park in Queens, New York City, thanks to another Belgian named Maurice Vermersch.
Although waffles are traditionally considered a breakfast staple, chicken and waffles is a common dish served for supper in certain parts of the country, with some debate over the origins of this unusual food combination. Many food historians and scholars claim that a 1930's restaurant in Harlem called the Wells Supper Club came up with the idea to serve crispy fried chicken thighs alongside waffles. Others say the origin of this combo started with Pennsylvania Dutch home cooks of the 1600s. Still, others maintain that it began with enslaved African Americans mixing cooking batter to create golden-edged waffles and adding fried chicken to their concoction. In his award-winning book Soul Food: The Surprising Story of an American Cuisine author Adrian Miller wrote, "German settlers made chicken and waffles smothered in gravy a Sunday dinner dish during much of the nineteenth century. By the early 1800s, a 'Virginia Breakfast,' featuring a combination of fried or baked meats with any sort of hot quick bread, was the gold standard of plantation hospitality."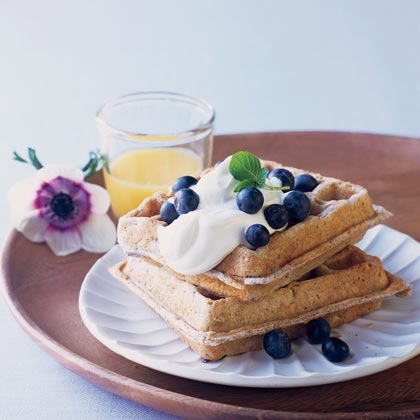 People go crazy for their favorite waffle recipes, which are only limited by the cook's imagination. Sunset Magazine offers waffle recipe variations that include buckwheat Belgian waffles, buttermilk pumpkin waffles, cornmeal waffles, banana pecan waffles, mashed potato waffles, oatmeal cinnamon waffles, BLT waffles, whole wheat waffles, whole grain apple waffles, chocolate waffles, even waffle ice cream sandwiches.
Whether you like your waffles for breakfast, lunch, dinner, or a midnight snack, with fruit toppings, smothered in butter and syrup, or with a side of crispy fried chicken, there's no better time to indulge in these warm and wonderful culinary delights than National Waffle Day. Check your favorite local restaurant or waffle shop for National Waffle Day specials, and bring a friend to partake in the wonderful world of waffle deliciousness with you!