What better way to celebrate summer than with a deliciously refreshing cold beverage? If you love iced tea on a hot summer day, you'll appreciate the fact that this month is National Iced Tea Month. We thought it would be the perfect time to offer up a few iced tea twists for a fresh take on this traditional summertime drink.
We all know that one of the essential elements to staying healthy and help your body run efficiently is to stay hydrated, no matter the season. To make sure you're drinking enough water during the day, many health experts recommend drinking half your body weight, in ounces, of water each day. In other words, if you weigh 150 pounds, you should be drinking 75 ounces of water each day. You can always drink more, and you should if you are exercising, but using this formula is a good starting point.
Many people struggle with drinking plain, unflavored water each day and wind up falling short of their daily water needs. One easy and delicious way to increase the amount of water you consume is to make healthy iced tea recipes. Not only do you get more flavor, your body will stay hydrated. By choosing herbal tea, you can decrease or eliminate caffeine, if that's a concern for you. Here are some other healthy ways to get your daily water in by using variations on traditional iced tea.
For most iced tea recipes, start with simple brewed tea. You'll need:
3 to 5 black tea bags (If using loose tea, substitute 1 tsp tea leaves for 1 tea bag)
4 cups boiling water
Ice cubes
Once you've brought your water to a boil, turn it off, drop in your tea bags, cover the pan and remove it from the heat. Let the tea steep for 5 to 10 minutes. Pour tea into a two-quart container, add sugar to taste, water, and ice to fill the container to capacity. For a healthier alternative, use honey, agave syrup, Stevia, or monk fruit instead of sugar. Once you have your tea base, you can make several variations, such as:
Add ½ cup fresh squeezed lemon juice after straining out seeds, and garnish with a fresh mint leaf
Substitute one or two peppermint tea bags for the black tea bags
Add 2 teaspoons of vanilla extract, and serve with a spoonful of vanilla ice-cream for a dessert drink
Substitute the vanilla extract for almond or coconut extract for a different flavor
Add fresh sliced summer fruit such as oranges, pineapple, peaches, blackberries, raspberries, or sliced and pitted sweet cherries to give your tea an extra kick
Add sparkling water to make an iced tea spritzer
You can also use fruit juice to bump up the flavor in your fruit tea.
For a refreshing, tangy tea, add 1 cup of orange juice and ½ cup of grapefruit juice to 4-5 cups of regular iced tea. Adjust sweetness to taste and enjoy. For a sweeter variation, substitute ½ cup of pineapple juice for the grapefruit juice.
For single serving iced teas with a twist, we love this idea for a flavored tea using coconut water and a mason jar from A Sweet Pea Chef:
2 black tea bags
1/2 lime thinly sliced
3 cups heated coconut water
Raw honey (optional)
Add the black tea bags and sliced lime to a 1-quart mason jar or pitcher.
Pour heated coconut water into the mason jar and allow to steep for 15 minutes before removing the tea bags. Place in the fridge to completely chill for 3-4 hours for the flavors to release.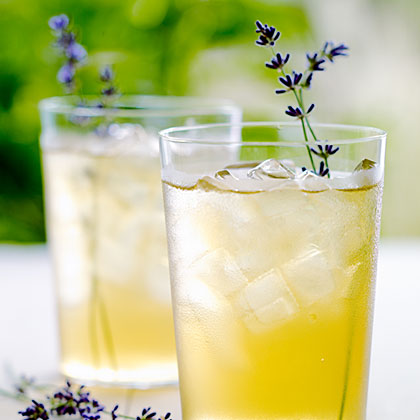 From Sunset Magazine, check out this super refreshing floral tea recipe:
4 green tea bags
1-1/2 tsp fresh lavender blossoms or ¾ tsp dried lavender
1-3 lavender sprigs for garnish
Heat 1 qt. water in a medium saucepan until it just begins to simmer. Remove from heat and add tea and lavender. Steep for 5 minutes. Strain into a heatproof pitcher or bowl. Let cool. Pour into ice-filled glasses and garnish with lavender sprigs if you like.
Have fun trying out one or more of these fresh twists on iced tea and enjoy your summer! Don't forget – Current has a great collection of tea related gifts from tea infusers and pots to stationery.